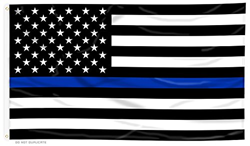 Little Rock, AR (PRWEB) August 22, 2016
Thin Blue Line and Thin Red Line Flags were originally designed as mourning flags to be flown at police and fire department funerals. They became a painfully common sight in the days and weeks after September 11, 2001.
It has been 15 years since the horrific events of what has become known as simply 9/11 or as President Bush named it in a proclamation, Patriot Day because of all the patriotism the events of that day brought about. Flags became a symbol of hope, defiance, mourning and pride for Americans all across the nation, not just in New York, Pennsylvania and Virginia.
In the last few years and particularly in the last few months, police officers across America have been targeted specifically by violent offenders. Many of FlagandBanner.com's customers have wanted to find ways to let their local police know that they are still appreciated and that the acts of a few should not reflect on the many who serve and protect with honor on a daily basis. Just since 2009, more than 1,500 police officers have lost their lives in the line of duty.
Recently, FlagandBanner.com was featured on KTHV News in Little Rock, Arkansas in a news story about towns participating in the "Paint the Town Blue Initiative" and the video was posted to Facebook. The minor feature news story has had more than 700 Likes and many shares and comments.
According to Madison Monroe, Sales Manager at FlagandBanner.com, "The Thin Blue Line flag sales have skyrocketed as citizens rally to show their support of our police officers."
The 15th anniversary of 9/11 is this year and followed by Fire Safety week October 9th -15th in light of this, Monroe suggests, "To honor our 9/11 fallen firemen and all those that risk their lives daily to keep us safe, we recommend flying the Thin Red Line flag. Made from nylon with sewn stripes and embroidered stars, this flag looks like the Thin Blue Line for police, with the blue replaced with a red stripe to signify firefighters. From September 11th through October 15, you can show your support of your local fire department by flying this flag."
Firefighters were the hardest hit during the events of 9/11/01, as more than 400 firefighters were inside both towers or at the base of the Twin Towers working to get people to safety when the first tower collapsed.
Since 2002, American fire departments nationwide have lost almost 1,400 men and women in the line of duty. With the current fires in California, October's Fire Safety week, and the anniversary of 9/11 now is the perfect opportunity for all Americans to show their support of firefighters lost not only on 9/11 but all those lost working to help the public before and since then as well.
FlagandBanner.com offers both the Thin Blue Line and Thin Red Line flags on their website, as well as in their showroom located on 800 West 9th Street in Little Rock, Arkansas. The company was started by owner Kerry McCoy, originally named Arkansas Flag and Banner, until 1995 when the name changed to reflect the company's website, Arkansas' FlagandBanner.com. They have been selling flags, banners, flagpoles, hardware, pennants and more internationally for more than 40 years. For more information about FlagandBanner.com visit their Website or Press Center.