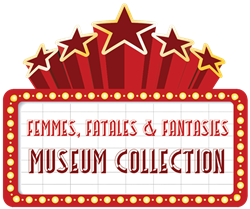 These posters are a part of film history.
Scottsdale, Arizona (PRWEB) August 24, 2016
Femmes Fatales and Fantasies Art Museum and Gallery in Scottsdale, Arizona is pleased to announce the debut of their new online vintage movie poster museum. Femmes Fatales and Fantasies, also known as http://fffmovieposters.com has been open since 2007. They are home to hundreds of rare, many one of a kind movie posters, lobby cards and stills. Now you can view them at fffmoviepostermuseum.com.
Curators Mark and Sherry Goldberg and their daughter, Brandy Isadora, all have a passion for classic movies and movie posters. As a curator, Mark Goldberg, has said, "Virtual museums are important so that people can view these beautiful items of movie memorabilia online without having to travel. We are happy to be able to share all of our collection online so that people who love movies can enjoy these rare images."
Several of Femmes Fatales and Fantasies' one of a kind posters include: a 1935 Melloy Brothers' Captain Blood with Errol Flynn and Olivia de Havilland, a 1922 Moonlight and Honeysuckle with Mary Miles Minter, an Italian 1955 Seven Year Itch with Marilyn Monroe, an Italian The Red Shoes, a 1946 classic film about a ballet dancer, and a French 1941 The Maltese Falcon with Humphrey Bogart.
Curator Brandy Isadora, who will be writing the movie reviews of classic films for the website, has said, "We have extensive collections of Elizabeth Taylor, Marilyn Monroe, Brigitte Bardot, Errol Flynn, John Wayne and hundreds of others. I've grown up with these images and feel like they're my friends. They inspired me to become a photographer."
Sherry Goldberg has said, "These posters are a part of film history. We are thrilled to be able to share these iconic, rare images with the public."
Also included on the site, is extensive historical information about movies and movie actors and actresses, as well as a link to the art gallery website where there are tens of thousands of posters for sale for those who want to start their own collection.
Those of you who like classic movies, movie stars or have an interest in film history will definitely want to check out this new site, fffmoviepostermuseum.com, which lets you browse the museum without leaving your home.
Company Description:
Femmes Fatales and Fantasies is a Scottsdale Art Museum and Gallery which specializes in original collectible movie posters. They are home to hundreds of rare and many one of a kind movie posters. They have just opened their online movie poster museum so that they can share these iconic and wonderful images with people all over the world. They can be accessed at fffmoviepostermuseum.com.