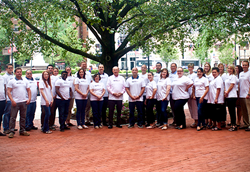 One of Next Level's core values is to provide spectacular service to our community, and this was more important than ever as we celebrate the company's 40th anniversary.
New Brunswick, NJ (PRWEB) August 23, 2016
HOPE stands for Helping Others Persevere and Excel, and Next Level Performance's HOPE Week has been adapted from the New York Yankees' initiative by the same name. HOPE Week kicked off on August 1st, which was the same day Next Level Performance unveiled its new branding. The new company name, Next Level Performance, reinforces the company vision to "enrich people's lives and give them reasons to achieve more." HOPE Week had the same objective, as charities were chosen based on helping individuals better themselves. In one short week, the company and its employees helped over 570 individuals in their community.
This year's HOPE Week was more significant this year because of the 40-year anniversary of the Dittman Company. Employees volunteered on initiatives with five organizations throughout the community. Managing Director, Dave Dittman says, "One of Next Level's core values is to provide spectacular service to our community, and this was more important than ever as we celebrate the company's 40th anniversary. Watching my colleagues come together and work hard toward something so powerful is sincerely moving."
HomeFront is an organization in New Jersey whose mission is "to end homelessness in Central New Jersey by harnessing the caring, resources and expertise of the community." Next Level Performance contributed toward this mission through several programs; helping assist an art project for summer camp children, leading a presentation on job interview skills, sharing computer training with their WorkFirst clients, sponsoring children with back-to-school backpacks full of supplies, and feeding a hungry family for six weeks through a coin drive donation.
Elijah's Promise offers a soup kitchen, hospitality job training, and reduced cost or free clothing for those in need, and has a long-standing relationship with the company. Next Level volunteers helped lead a discussion on menu planning for hospitality job-seeking adults, ran a food drive in partnership with MATRIX, and supported Promise Catering by using them for a HOPE Week kick-off lunch.
500 First Night Kits were assembled and donated to Jersey Cares to make the first night in a shelter easier for people in the community, and CASA of Middlesex County received 30 backpacks full of essentials which were assembled by Next Level employees for displace teens. Several cartons of donated books were delivered to the New Brunswick Free Library, which is the only source of education material and learning space for many in the community. The whole week, teammates were reminded how fortunate they are as they selflessly gave back to the community they work in every day.
Susan Adams, Senior Director of Engagement says, "Service to our community is a core value for us at Next Level Performance, and every member of our team enthusiastically participates in HOPE Week initiatives. We are honored to put our skills and best efforts to great use, helping our neighbors with the challenges they face."
About Next Level Performance, a Dittman Company
Next Level Performance, a Dittman Company, continues the mission of Dittman Incentive Marketing, helping people and organizations to dig deeper, reach higher, and attain the next level of performance.
For 40 years, Dittman Incentive Marketing has been an award-winning leader in providing incentives, recognition, and rewards programs to help companies realize immediate ROI in motivating sales people, employees, channel partners, customers, and consumers. Dittman's signature products and services include: TotalPRO® (Performance Recognition Online) — an incentive, recognition and rewards online software solution (SaaS) – and Deluxe Group Incentive Travel.