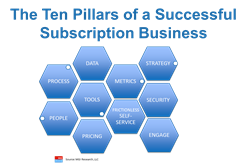 A successful subscription business is like an iceberg – the portion visible above water seems modest in size and simple but belies the size and complexity of what lies underneath.
Chicago, IL (PRWEB) August 22, 2016
Navint Partners, LLC is pleased to present a new original whitepaper series, in conjunction with MGI research, focused on Subscription Business Models (SBMs.) As a leading consulting services provider in the space, Navint will provide fresh monthly insights on SBMs that are designed to provide guidance and information for companies looking to better understand and capitalize on this evolving business trend.
Subscription Business Models hold a lot of promise. Customers find the concept digestible. Investors love the predictable revenue streams and companies see SBMs as a way to gain agility in business. For start-ups, an offering priced as a subscription serves as a proven method of customer acquisition. New companies often build their brand equity using the subscription model customer interaction as part of their whole product experience. Established companies look to subscriptions as means of reaching into new markets and serving new classes of customers. But what defines success of a subscription business? What are the key elements that define the characteristics of a successful subscription revenue business?
Businesses that succeed with subscription revenue models tend to take a holistic approach defined by ten key elements:

PRICING
FRICTIONLESS SELF-SERVICE
ENGAGEMENT
METRICS
PEOPLE
TOOLS
PROCESS
DATA
SECURITY
STRATEGY
For a more detailed description of each component of successful subscription businesses, download the complete whitepaper here: http://www.navint.com/Subscription-Services-and-Monetization-Resources
About Us
Navint Partners is a different kind of management consulting firm, blending unique industry experience and innovative thinking to address clients' business challenges in imaginative ways. Navint is the right partner for organizations facing a journey to efficient and scalable recurring revenue streams. We help our clients with all aspects of the Subscription Business Model journey, from strategy development and rationalization to realization of the strategy through effective team, process, and technology design.
Visit us at http://www.navint.com/Subscriptionservices for more information on Navint's service offerings.