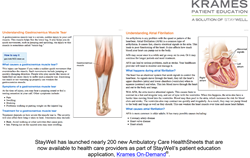 Yardley, Pa. (PRWEB) August 23, 2016
As the health care industry moves toward an increasing use of outpatient services for a wide variety of conditions and injuries, easy-to-use patient education tools are becoming increasingly important. StayWell, a health engagement company that delivers patient education, health content marketing, health engagement and population health management solutions, announced today that it has launched nearly 200 new Ambulatory Care HealthSheets that are now available to health care providers as part of StayWell's patient education application, Krames On-Demand®.
StayWell's Ambulatory Care HealthSheets focus on conditions and treatments that are provided in outpatient and ambulatory clinics for a variety of specialty areas, including orthopedics, neurology, and cardiology. Content includes:

Rehab Exercises (more than 60 HealthSheets) and Acute Orthopedics (more than 40 HealthSheets), covering topics like Understanding Meniscal Tears and Gastrocnemius Muscle Tear.
Infectious Disease (more than 15 HealthSheets), covering topics like Understanding Malaria and Understanding Middle East Respiratory Syndrome.
Cardiology (more than 10 HealthSheets), covering topics such as Understanding Bradycardia and Understanding Atrial Fibrillation.
"Patients are increasingly seeking care via ambulatory settings due to convenience and cost savings," said Elna Hamp, StayWell Executive Vice President & President of Patient Education. "Our new Ambulatory Care Content gives providers instant, electronic access to a wealth of options for authoritative, clinically vetted content that is condition-specific, and that can be used at point-of-care to educate patients and caregivers."
These HealthSheets, along with over 3,000 additional HealthSheets are now available to StayWell customers who license Krames On-Demand. The Ambulatory Care HealthSheets are also available to clients who partner with StayWell via a partner EMR or EHR system. Krames On-Demand is a web-based and print-on-demand patient education solution that allows hospitals and health systems to:

Offer a patient education program from an easy-to-use hub of clinically vetted content;
Easily access thousands of illustrated patient education handouts from every workstation;
Save clinical time identifying, administering, and documenting patient education;
Support Meaningful Use requirements; and
Create and integrate custom patient education materials that are easy to use and understand.
To learn more, about Krames On-Demand, please visit: http://staywell.com/patient-education-2/krames-on-demand/.
About StayWell
StayWell is a health engagement company that helps its clients engage and educate people to improve health and business results. StayWell brings decades of experience working across the health care industry to design solutions that address its clients' evolving needs. We fuse expertise in health engagement and the science of behavior change with an integrated portfolio of solutions and robust content assets to effectively engage people to make positive health care decisions. StayWell programs have received numerous top industry honors, including the C. Everett Koop National Health Award and the Web Health Award for health engagement programs. StayWell also has received URAC and NCQA accreditation for several of its programs. StayWell is headquartered in Yardley, Pennsylvania, and also has major locations in Salt Lake City, Utah, and St. Paul, Minnesota. To learn more, visit http://www.staywell.com.