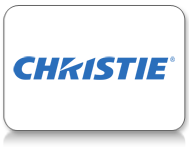 Our booth showcase at BIRTV is a clear demonstration that Christie has the capability and solutions to deliver powerful visual experiences both inside and outside cinema auditoriums.
BIRTV/BEIJING (PRWEB) August 26, 2016
Christie®, a leader in creating and delivering the world's best visual and audio experiences, is captivating visitors with high-impact experiential media and interactive multiplatform applications that are well suited for cinema environments, at the Beijing International Radio, TV & Film Exhibition (BIRTV), taking place at the China International Exhibition Center in Beijing.
At booth #2A236, visitors can learn more about how unique forms of visual technologies are designed and deployed by exhibitors and theater owners to create exciting experiences that attract and entertain patrons in cinema spaces. These include innovative cinema lobby and immersive corridor concepts created by digital specialists from Christie 360, a highly specialized, passionate team dedicated to creating cutting-edge experiential media, next generation digital signage, and interactive multiplatform applications.
Another highlight of the booth is a "Christie Cinema Corridor" similar to those found in contemporary cinema complexes. Designed by the Christie 360 team to enhance customers' pre-show experience, it comprises large extended screens displaying an array of engaging contents using Christie Captiva Series ultra short throw projectors and Christie Pandoras Box media players.
The cinema lobby display is made up of three Christie 65-inch interactive flat panels, arranged in a herringbone pattern and driven by Christie Pandoras Box media players. They are used for displaying exciting visual contents produced by Christie 360 that visitors can interact with by simply touching the screens with their fingers.
"Our booth showcase at BIRTV is a clear demonstration that Christie has the capability and solutions to deliver powerful visual experiences both inside and outside cinema auditoriums. Our eye-catching showcase developed by Christie 360 can help our customers achieve the goal of creating effective and sustained engagement with patrons and other stakeholders," commented Jason Pei, Deputy General Manager, Christie China. "From smaller-scale events and spaces to large venues and attractions such as cinemas, our reliable end-to-end solutions and services are well placed to ignite customers' senses, and assist exhibitors in generating a higher brand impact and an enhanced overall experience."
With more than 40 international awards under its belt, Christie 360 has the technology, creativity and innovation to help exhibitors and cinema owners create new revenue streams for exhibitors, deliver refined media opportunities for brands and studios, and offer high-impact digital experiences for the consumer to deliver superior ROI. From cinema corridors and lobbies to interactive media applications, its expertise has resulted in new trends that enhance the visitor experience.
Since its inception, Christie 360 has worked on projects around the world and pushed the boundaries in how branded digital media can be used in different type of environments. These include an immersive corridor and experiential hub for cinema operator Cinemaxx in Indonesia. The experiential hub installed at the cinema lobby, as well as the immersive corridor that leads to various auditoriums, consist of various Christie's advanced visual solutions that solicit movie patrons like never before with a variety of exciting contents to engage and entertain cinema-goers before they step into the auditoriums.
Lin Yu, Vice President, Christie Asia Pacific, added, "With greater emphasis for more audience and customer engagement at cinemas, we are well-positioned to deliver what exhibitors need by offering a range of our visual solutions, combined with content experiences, and content management systems designed by Christie 360 that reaches out to the intended audience. Christie 360's capabilities and experience in this area is unparalleled and I'm confident that our full suite of solutions for cinema environments will enthrall and engage cinema-goers at first sight."
About Christie®
Christie Digital Systems USA, Inc. is a global visual and audio technologies company and is a wholly-owned subsidiary of Ushio, Inc., Japan, (JP:6925). Consistently setting the standards by being the first to market some of the world's most advanced projectors and complete system displays, Christie is recognized as one of the most innovative visual technology companies in the world. From retail displays to Hollywood, mission critical command centers to classrooms and training simulators, Christie display solutions and projectors capture the attention of audiences around the world with dynamic and stunning images. Visit http://www.christiedigital.com.
Follow Christie:
twitter.com/christiedigital
twitter.com/christievive
facebook.com/christiedigital/
linkedin.com/company/christie-digital-systems
youtube.com/christiedigital
instagram.com/christiedigital/
vimeo.com/christiedigital
Christie® is a trademark of Christie Digital Systems USA, Inc., registered in the United States of America and certain other countries.