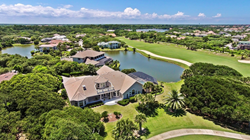 Drone videos bring entertainment into the home buying process and make it easier for buyers to fall in love with a property.
Rosemont, IL (PRWEB) August 24, 2016
VHT Studios® welcomes a new real estate marketing era on August 29, 2016, when the Federal Aviation Administration officially implements new, relaxed regulations on the way businesses can use drones, also known as remote-controlled unmanned aircraft systems.
Since the new FAA rules may prompt real estate professionals to consider buying a drone, Brian Balduf, CEO and Co-Founder, offers 10 Tips Before Entering the Drone Zone.
Drones offer real estate professionals myriad ways to showcase their listings from a new and inexpensive perspective. Drone videos bring an element of entertainment into the home buying process and make it easier for buyers to fall in love with a property. Marketing real estate with aerial video and photographs conveys not just a listing, but also a lifestyle by capturing distinct locations such as mountainsides, lake-, ocean- and river fronts, golf courses or parks, train depots or shopping areas.
Balduf, a 17-year veteran of real estate marketing, encourages professionals to do research and know the rules before purchasing a drone. Balduf's insights were featured in this Realtor Magazine video report, which includes VHT Studios' footage from a client's real estate drone shoot. You can also view the video on RealtorMag.org.
Drones and the Unknown: 10 Tips Before Entering the Drone Zone
1. Know your strategy. Understand the role drones will play in your marketing efforts, and how to use them effectively. Incorporating drones into your marketing, just because you can, may not be the best formula for success.
2. While today's requirements include a lower point of entry, (no need for $10,000 to $20,000 in fees for a pilot's license), an FAA certificate is required to verify your aeronautics knowledge (approximately $150 fee). You'll need to pass a background check and get tested at one of 700 FAA-approved testing centers.
3. Learn the rules, such as:
➢ If flying within five miles of an FAA control tower, operators must notify the tower about a drone in flight (download the FAA app, "Know Before You Fly" for tower locations and notifications).
➢ Know airspace restrictions. For example, drones aren't allowed near all major airports.
➢ The drone must be within the operator's line of sight.
4. Follow local regulations. Learn which state and government entities are crafting drone rules, and get on their email lists.
5. Buy insurance. The FAA doesn't require it, but brokerages need the added liability protection in case of accidents.
6. Prepare for a learning curve. Crashes are common, even for experienced drone pilots (See Tip #5!). Allow about a year behind the wheel before that drone floats like a butterfly above your listings. Until then, drone video may appear unsteady or feel like a jerky roller coaster ride.
7. Know your budget. Commercial drones cost about 10 times more ($3,000) than what hobbyists use ($300).
8. Learn to use video editing software to produce a beautiful finished product.
9. Be knowledgeable and prepared for video distribution. You'll be uploading and managing your clients' listing videos so they're live on all streaming sites, such as YouTube and Vimeo, and removed once a home is sold.
10. Consider the time and upfront costs required. Hiring a professional pilot/photographer with the creative eye and years of experience may be a better option for capturing stunning aerial views of distinctive real estate listings. Call VHT Studios at 800-790-8687 or email info(at)VHT.com.
For a complete tour of high-resolution aerial drone video and photography, visit http://tour.vht.com/433406744/aerial-drone-compilation-rosemont-il-60018/photos.
About VHT Studios®
VHT Studios delivers professional photography and image management services to top real estate professionals looking to become even more successful. VHT Studios' services ensure their properties get seen more, sell faster and at a greater price, which also helps attract new clients. A full-service partner to leading real estate agents, brokerages and businesses, the VHT Studios team delivers to real estate professionals their most powerful selling tool – high-quality photography and video — from creation to display. This gives real estate professionals more time to focus on what they do best – taking care of their customers.
With an unrivaled nationwide network of the top professional photographers and image specialists, VHT Studios' programs are an affordable, valuable investment for real estate agents, who expect their listings to be seen whenever and wherever homebuyers search, and for brokers looking to recruit and retain top agents. Based in Rosemont, Illinois, VHT Studios has helped more than 200,000 real estate professionals sell more than $200 billion in properties since the company's founding in 1998.
For more information, visit vht.com/, or find us on Facebook, Twitter or LinkedIn.