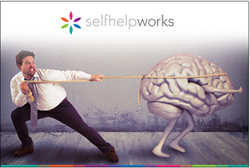 Everyone benefits...employees, their employers, and the cognitive behavioral training industry.
San Diego, CA (PRWEB) August 23, 2016
In an effort to help employers improve the health of their workforce, online behavior change expert SelfHelpWorks has published a three-minute educational video about cognitive behavioral training. The video explains the critical role that cognitive behavioral training plays in employee wellness programs, as well as the best way to implement it in the workplace. It also discloses the results of 60,000 wellness program participants that used cognitive behavioral training courses to quit smoking, eat healthier and lose weight, exercise more, curb excessive drinking and improve stress management and diabetes management.
SelfHelpWorks VP Marketing, Bryan Noar, explained what prompted SelfHelpWorks to release the video: "Our cognitive behavioral training interventions are extremely effective, and employees love them. However, as with most things that are both unique and innovative, explaining what they do and how they work in layman's terms can be a challenge. This is in large part because most employers have never even heard of cognitive behavioral training and the tremendous health improvements it can bring to their workforce. So we said, 'Why not educate them?' That way everyone benefits … employees, their employers, and the cognitive behavioral training industry."
Noar went on to explain that cognitive behavioral training, a derivative of cognitive behavioral therapy (CBT), has been employed for decades to help employees eliminate tough-to-break unhealthy habits: "SelfHelpWorks' founder originally delivered cognitive behavioral training courses on-site at hospitals, clinics and large organizations," said Noar. "But he found it challenging to expand the training organization past a certain point because of all the logistics involved with on-site training, as well as the difficulties inherent in maintaining instructor quality. That's why SelfHelpWorks was established – to overcome these barriers using video and other digital technologies. As a result organizations can now offer their employees cognitive behavioral training courses inexpensively via the Internet, 24/7."
The educational video, Creating a Healthier Population, is the first of several short videos on the SelfHelpWorks website's Demo Tour page. For visitors who are interested in learning more after watching the educational video, a second video shows what the SelfHelpWorks online course experience looks like for the end user and explains how to implement the courses in the workplace. There is also a sample excerpt of an introductory coaching session from each course, as well as numerous comments from past participants.
ABOUT SELFHELPWORKS, INC.
SelfHelpWorks is the leading provider of online video-based cognitive interventions for reducing population health risk. The interventions are designed to produce sustained behavior change using an evidence-based cognitive behavioral training approach derived from cognitive behavioral therapy (CBT). They target important issues such as obesity and unhealthy eating, tobacco addiction, diabetes, chronic stress, alcohol abuse and inactivity. The interventions are primarily offered by corporate wellness programs and health providers. Users can access them privately and conveniently 24/7 via computer, tablet or smartphone.