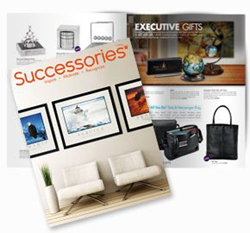 "We are thrilled to have found a partner who is equally as energetic and passionate about what they do as they are about what we do," said Warren Struhl owner and operator of Successories with his brother Ted Struhl.
Delray Beach, FL (PRWEB) August 24, 2016
Ability Commerce ("Ability"), a recognized market leader in direct commerce retail technology and service solutions for the mid-market, today announced Successories.com has chosen Ability as its ecommerce merchandising and marketing services agency as well as its Contact Center for customer care and outbound sales. All services will be powered by a fully integrated retail technology framework with Ability's order management, ecommerce platform and marketplace management.
•Ability Marketing agency services with Premier Google Partner status, is driven by certified ecommerce and web content management experts trained to keep your highly targeted campaigns running to maximize ROI. Services include website design, paid online marketing campaigns, email marketing, SEO, conversion optimization, and marketplace agency services using Ability's direct commerce platforms.
•Catalog design, production and circulation.
•Contact Center services for customer care, order taking and outbound call services to increase sales using Ability's Comprehensive Commerce Suite "CCS" enterprise order management solution.
"We are thrilled to have found a partner who is equally as energetic and passionate about what they do as they are about what we do," said Warren Struhl owner and operator of Successories with his brother Ted Struhl. "The leadership team at Ability Commerce and their understanding of what we stand for made the Ability agency the right partner to take the brand's presence to the next level"
Diane Buzzeo, president and founder of Ability Commerce said "Successories is entrusting in us the task of building upon their brand equity with our Merchandising and Marketing services. We're thrilled to be chosen as their strategic partner to further penetrate the market for motivational and promotional products."
About Successories
Raising employee moral & productivity since 1985, Successories has been the #1 source for motivational posters and employee recognition for over 30 years. Awarded consecutively as one of Counselor Magazine's Best Places to Work, Successories caters not only to 95% of Fortune 500 companies, but also to many small offices and family owned businesses all over the world. For more information, visit http://www.successories.com
Ability Commerce
For over 20 years, Ability Commerce has empowered ecommerce and catalog retailers to achieve success by providing them with scalable, flexible and affordable solutions to better manage inventory, orders, fulfillment and warehouse operations, as well as provide online and catalog customers with an exceptional user experience. In addition to Ability's cutting edge direct commerce enterprise platforms, our services including merchandising & marketing, technical & business and contact center, help retailers sell more products to more customers through multiple sales channels. Ability Commerce is recognized as a leader in the industry and recently named to the Internet Retailer's 2016 Leading Vendors of the Top 1,000 E-Retail Clients. The Ability OMS is certified as compliant under PA-DSS v3.1 and FCBCO Validated. Our solutions enable mid-market companies to acquire, convert and retain customers more efficiently. http://www.abilitycommerce.com/