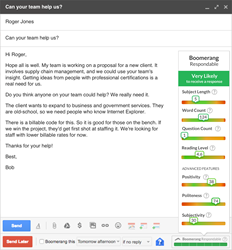 "We believe that Artificial Intelligence will achieve its greatest potential working in combination with humans rather than replacing them," said Aye Moah, Chief of Product, Boomerang.
Mountain View, Calif. (PRWEB) August 23, 2016
Boomerang, the most popular extension in both the Google Gmail and Microsoft Outlook email ecosystems, today launched its newest feature, Respondable, a revolutionary new application of artificial intelligence to knowledge work. Respondable provides Boomerang users with real-time analysis of an email's quality and likeliness to garner a response, as well as suggestions for how to improve it, backed by algorithms trained on tens of millions of messages.
Respondable is one of the first applications of artificial intelligence that aims to augment human capabilities and creativity in a work environment and is based on the application of machine learning to a corpus of hundreds of millions of data points in public and proprietary (aggregated and anonymized) email datasets and other datasets. Boomerang's initial research isolated a number of factors that correlate strongly with the likelihood of receiving a response to an email:
● Message subject length
● Message word count
● Reading Level
● Question count
● Sentiment
● Politeness
● Subjectivity
Through that data, Boomerang has determined a broad set of factors that contribute to an email's probability of garnering a response. As emails are composed, Respondable's algorithms predict the likelihood that the message will receive a response and explain that analysis to the user in a way that is easy to understand, all in real-time. It also suggests improvements to increase odds of a response, working in tandem with the user to compose the optimal email message.
"We believe that Artificial Intelligence will achieve its greatest potential working in combination with humans rather than replacing them," said Aye Moah, Chief of Product, Boomerang. "Unlike applications that seek to use technology to replace humans, our philosophy is to enhance human creativity with assistance from artificial intelligence in a manner that puts humans in control."
Boomerang Respondable incorporates a variety of machine learning techniques, including neural networks and deep learning, layering these techniques together in a manner that provides an optimal balance between consistency and quality of results, the ability to translate those results into actionable information, and the speed and performance to deliver results in real-time for a satisfactory user experience.
"Building a system that acts in concert with a human as they perform creative work requires an understanding of the strengths, weaknesses, and subtleties of a variety of machine learning techniques," said Mike Chin, CTO, Boomerang. "Respondable layers several techniques together in a novel way - for example, we use deep learning and neural networks for textual analysis, but we found that other techniques worked best for assigning weights to the inscrutable outputs of neural networks in ways that can be explained to users. That allows us to make the output of our system understandable and actionable, even though the calculations are incredibly complex."
By default, Boomerang Respondable works entirely within the user's mail client. It does not transmit any message data anywhere, for any purpose. If a user chooses to enable advanced machine learning features, Boomerang transmits message data using enterprise-grade encryption, analyzes the message data on a secure server, then transmits the analysis back via encrypted communication channels. Boomerang immediately discards all message data after performing the analysis.
"Over the past six years, Boomerang's feature set has helped millions of users boost the effectiveness of their emails. From scheduling messages to be sent at the optimal time, to providing a read receipt feature that boosts responses, to notifying you about messages that need follow-up, Boomerang already increased response rates by almost 90%," said Alex Moore, CEO, Boomerang. "Now, we're excited to be able to apply machine learning technology to helping users craft optimal message content to increase response rates even further."
Boomerang Respondable is included as part of both Boomerang for Gmail and Boomerang for Outlook. It is immediately available for all Boomerang users in both Gmail/Google Apps and Microsoft Office365/Outlook.com. New users will receive Respondable immediately upon installing Boomerang.
Access to Respondable for unlimited messages is included in the free Basic plan for both platforms. Advanced features, including sentiment analysis, politeness, subjectivity, and personalized analysis are available for users on Boomerang for Gmail's Pro and Premium plans.
To download Boomerang for Gmail, visit: http://www.boomeranggmail.com/respondable
To download Boomerang for Outlook, visit: http://www.boomerangoutlook.com/respondable
To download images of Respondable, visit: https://drive.google.com/drive/folders/0B9jqDywQG1g-WFRMaWc1bzVqMWc?usp=sharing
About Boomerang
Boomerang is a market-leading productivity solution helping millions of customers focus on email that matters, when it matters. Boomerang, one of the first Microsoft Partner add-ins for Outlook, is also available for Gmail and Android. Other key products include Boomerang Calendar, an email-based calendar assistant revolutionizing the way meetings are scheduled, and Inbox Pause, which puts new messages on hold. Boomerang is based in Mountain View, CA. To learn more, please visit: http://www.boomerangapp.com.