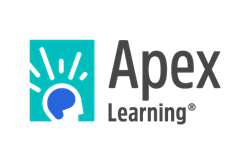 We selected Apex Learning because we were seeking a rigorous option proven to support student outcomes.
SEATTLE, WA (PRWEB) August 29, 2016
Apex Learning, the leading digital curriculum provider known for making rigorous, standards-based content accessible to all students, announced today that the Educational Services Commission of New Jersey has entered into a contract to offer Apex Learning solutions to member districts. Schools and districts have access to the full range of Apex Learning solutions, from enrollments in virtual courses with instruction by New Jersey-certified Apex Learning online teachers to digital curriculum for classroom programs.
"We selected Apex Learning because we were seeking a rigorous option proven to support student outcomes," said Sayreville Public Schools Director of Curriculum and Instruction Edward Aguiles. "We know our students will learn more using Apex Learning digital curriculum, and they are excited about the new opportunities now available to them through the online program."
By offering enrollments in Apex Learning virtual courses, school districts are able to expand options available to students who might not otherwise be able to take a course. Similarly, Apex Learning Tutorials and Comprehensive Courses are the digital curriculum of choice for schools across the country seeking to keep more students on track for on-time graduation and to provide options for those students who need support to get back on the path to success.
"During the 2015–2016 school year, we helped students in more than 78 high schools in New Jersey successfully earn credits toward graduation," said Cheryl Vedoe, CEO, Apex Learning. "Educational Services Commission of New Jersey member districts can have confidence that when they choose Apex Learning solutions they will achieve the results they expect."
About Apex Learning
Nearly two decades ago Apex Learning emerged as a leader in digital learning for secondary education, developing online Advanced Placement courses to provide students who would otherwise not have access the opportunity to take rigorous, college-level courses. Recognizing the challenges schools face in meeting the needs of every student — from those struggling to stay on track for graduation to those capable of accelerating their learning — the company continues to develop innovative, digital learning solutions to support teachers and provide every student with the opportunity to excel beyond his or her expectations.
Today Apex Learning offers a comprehensive catalog of rigorous, standards-based online courses that meet high school graduation requirements. Apex Learning Comprehensive Courses are used by schools nationwide for both initial credit and credit recovery to get students back on track for on-time graduation. The company's latest digital learning solution —Tutorials —ensure all students are prepared for high-stakes exams, provide remediation and enhance initial instruction.
Apex Learning, headquartered in Seattle, is accredited by AdvancED and its courses are approved for National Collegiate Athletic Association eligibility. For more information, visit http://www.apexlearning.com or call 1.800.453.1454.