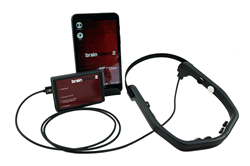 Lee Gerdes, Founder & CEO of Brain State Technologies states, "the brain can be relaxed from the inside out, without stimulation, resulting in enhanced sleep and performance, based on reaction times and enhanced cognitive performance."
Scottsdale, Arizona (PRWEB) August 23, 2016
Brain State Technologies announces that Founder and CEO, Lee Gerdes will be participating as a panelist at the "Wearable Tech in Sport Summit" to be held at the San Francisco Marriott Marquis Hotel, Wednesday August 24th.
Gerdes will identify the uniqueness of Brain State Technologies' approach to brain optimization and how data analysis provided the direction for the engineering of their core technology, based on the data of 120,000+ past client users; generating a total of over 5 terabytes of brain data – creating the largest repository of brain rhythm data and associated human conditions in the world.
For Gerdes, this will be a time of celebration as his own full-circle journey into the world of brain related technology began in San Francisco after he was assaulted by 4 youth, one of whom wielded a baseball bat, almost 24 years ago. Struggling with persisting post-concussion symptoms (PPCS), and Post Traumatic Stress Disorder (PTSD) for 8 years as a result of that assault provided the core need for the creation and development of Brainwave Optimization technology, which provided the only relief for Gerdes.
Brain State Technologies recently announced success in providing significant symptom reduction of persisting post-concussion symptoms (PPCS) resulting from use of their core technology in their HIRREM® research technology. The majority of athletes were able to return to full participation in their competitive sports. This included new data showing that symptom reductions were maintained when athletes were evaluated at a later follow-up visit. Of significant note for professional athletes; there were also durable improvements in reaction time, which is shown to be slowed after concussion, and improvements in variability of their heart rates.
Brain State Technologies received a grant from the U.S. Army Research Office, which was the basis for its wearable headband product – Braintellect® 2 (B-2). A well-being and relaxation device that supports the brain to attain restful sleep, optimum performance, and enhanced learning. The new wearable was released in January of 2016 and has sold over 1000 units, with over 1600 clients using them to date.
Data drives the information and knowledge for the B-2 core technology to continue to be enhanced to support the well-being of the autonomic system and emotional system, which are driven by the brain. Lee Gerdes, Founder & CEO of Brain State Technologies said, "the brain can now be relaxed from the inside out, without any external or artificial intervention, that all other devices and medications provide. Unlike tDCS, neurofeedback, or medications there is no electrical stimulation or other user driven artificial means to change the brain." Instead, sensors read your brainwaves, then proprietary software converts mid-range dominant frequencies to music-like tones in real time that you listen to through earbuds. This acts like a sound based mirror, allowing the brain to recognize its own patterns. When the brain hears itself in this manner, it self-adjusts to more balanced rhythms. The results clients report, which have been achieved in clinical trials, are nothing short of amazing.