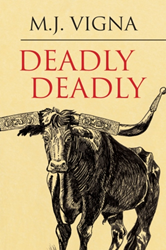 I bought it in 2013 and it is one of my favorite kindle among many thousands I have read.
Hemet, CA (PRWEB) August 25, 2016
These days most books and media target the younger generations who are eating up parnormal, sci-fi, super heroes and soft porn like there is no tomorrow.
This comes at a time when Baby Boomers and older are our largest demographic, but when it comes to entertainment, the most ignored. "Deadly Deadly" is one book that brings a refreshing change. This is a novel written by M. J. Vigna and Baby Boomers are definitely the target audience. It does not involve new technologies, futuristic, or formulaic romance. Although it is often a sweet and romantic story, it is also gritty, gruesome and full of struggle. Something our older generations can relate with and embrace. It is a an epic that will entrap you.
""Deadly Deadly" is a timeless story that takes place in early California and Texas. It is not your typical "western." M.J. Vigna is able to write a book that draws upon her own real life experiences. M.J. states that she always had a struggle financially but she attacked the situation with an attitude of making the most out of the little she had. She also adds that it was mostly fun because she always felt like she should have been born during the pioneer days.
She enjoyed trying to figure out how to make due with the bare minimum or necessities. M. J. remembers a time she was living isolated out in the country in a small adobe house with no electricity or running water. "I had 3 small boys at that time and they all came down with whooping cough. Now that was a challenge!" She exclaims.
When she was raising her family every dollar had to be stretched. She camped frequently, specifically to hunt for food as deer meat was the families main source of red meat, and a canvas tent and cast iron skillets were the norm. She was very experienced with firearms and although she was the only woman hunting, she was typically the first back to camp with a deer. Her daughter recalls that her mother was nicknamed "Eagle Eye," for her ability to spot game, and bring it in before her dad, uncle and brothers.
M.J. has always been an avid animal lover but more particularly, horeses. She rode her first horse all around the Burbank area during its early days when the movie studios were new and it was much more rural. She has raised, trained and ridden horses all her life.
With all of her personal knowledge, plus the fact that M.J. Vigna is a woman,"Deadly Deadly" has a strong appeal to both men and women. Many of the women who have reviewed the book stated that after reading it they passed it to their husband, who equally enjoyed it.
The novel includes a strong relationship between a bull and a lone, young trail boss. This relationship is a very endearing part of this book. They take on an unusual job of getting only 60 head of cattle from California to Texas. The owner is a young and beautiful landowner who insists she is part of the drive to get her precious new breed home.
Thus ensues an epic journey against a backdrop that sucks you in and invests you in the outcome.
"Deadly Deadly" was published some 40+ years after it was written. In her 86 year of life in 2015 M. J. Vigna began writing sequels due to reviewer demand. The sequel will be published late 2016 to early 2017.
You can find M.J. Vigna's website at facebook.com/mjvigna, her twitter is @mjvignabullbook.