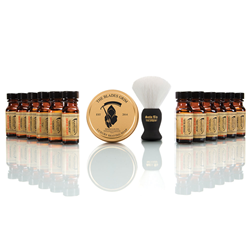 These 12 scents can be combined in literally thousands of different recipes and strengths.
Sandpoint, Idaho (PRWEB) August 23, 2016
If everything goes to plan, wet shavers will have a completely new product, that incorporates classic methods wet shavers love, with an innovative idea; giving users control over their shaving soap fragrance, with The Blades Grim Shave Scents. Luke Webster, The Grooming Network's CEO, weighs in, "Wet Shavers share a passion for finding and sharing products from artisan creators, they enjoy the benefits of high quality products, and do so knowing they are creating less landfill waste than any disposable cartridge razor shaver." Using a shaving brush to develop and apply a lather is something that wet shavers do because they enjoy the process and know it works better than super market gunk in an aerosol can.
Traditional shaving soap has a very long shelf life and some scents like Bay Rum or Sandalwood are staple offerings from industry suppliers, many wet shavers are familiar with these. Often people are ready to switch scents before they finish. The Blades Grim wants users of their new product Shave Scents, to become their own alchemist.
The word alchemy, when accompanied by The Blades Grim Shave Scents refers to putting the user in charge of their desired scents and the strength of the scent. From The Blades Grim Kickstarter campaign, "These 12 scents can be combined in literally thousands of different recipes and strengths. Shave Scents is a uniquely combined 2-part wet shaving system. We have custom mixed the Scents to our extremely popular Pre-Shave Oil. This oil has recently been re-formulated to mix with our soap which allows our savvy customers to build a 2 in 1 lubricating luxurious lather with pre-shave properties built in."
The Blades Grim crew is hosting a Kickstarter campaign that will last for 30 days, starting 8/23/16 and running for 30 days in the hopes to raise sufficient funds for new mixing equipment that will allow them to economically ramp up production in their Sandpoint Idaho based manufacturing facility.