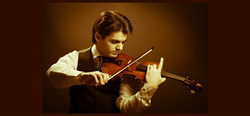 We wanted to include a website design that would make it easy for the layperson, as well as musicians travelling to the area to perform, to view the shop's offerings as well as locate it. ~ Ken O'Donnell, KO Websites
Mountain View, CA (PRWEB) August 23, 2016
Heaney Violins, a neighborhood music shop specializing in the sales, repair, and restoration of fine musical stringed instruments, has launched a new mobile-friendly website. Patrick Heaney, proprietor and Master Luther, was determined to offer current and potential clients the same "uncommon service" provided by him and his professional, knowledgeable, and skilled staff. Mr. Heaney enlisted KO Websites, Inc., to build the shop's responsive website.
"Heaney Violins provides stringed instruments and services to students, professionals musicians, and everyone inbetween," stated Ken O'Donnell, Founder and President of KO Websites. "We wanted to include a website design that would make it easy for the layperson, as well as musicians travelling to the San Francisco Bay Area to perform, to see the shop's offerings as well as locate it."
The new website consists of instrument sales, rental, repair and restoration information. Furthermore, Heaney Violins' website features a blog for those who love the cello, viola, and violin. Musicians of all levels have access advice, knowledge, and material related to stringed instruments. To view their new website or for more information about Heaney Violins, please visit http://www.heaney-violins.com.
About Heaney Violins
Since 2005, the music shop offers the sales and rental of violins, cellos, and violas. In addition, it provides on-site repairs and service on instruments as well as bow rehairs with premium horse hair. Each staff member is also a musician and understands the needs of performers of all levels. Visit the shop to see the impressive selection of fine stringed instruments for players at all tiers, or visit their new website for additional information.
About KO Websites
Since 2000, San Francisco Bay Area based KO Websites has worked with businesses from all different industries with website design and SEO. Along with its sister company, SEO Pro, it offers digital marketing solutions - from social media marketing and PPC (pay-per-click) online advertising to video services and digital presence/reputation management. Visit their website at http://www.ko-websites.com to learn more about its services and packages.