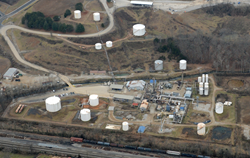 Somerset, KY (PRWEB) August 23, 2016
Continental Refining Company announces its latest distribution method using intermodal transportation to improve the manner in which the company services its customers. The company has implemented the use of railcars to carry oil products to and from its refinery in Somerset, KY to the Somerset Rail Park in Ferguson, KY, where the oil is offloaded or loaded onto trains for final distribution across the country.
The state-of-the-art, 34-acre railroad facility is considered among one of the best in the transportation industry and is in a prime location in Pulaski County, along the Norfolk-Southern Railroad Lines. The use of rail-to-truck and truck-to-rail transloading via the rail park will allow Continental Refining Company to further expand its national distribution in reach and efficiency.
"By using intermodal transportation, we will not only make both receipt of crude oil to our refinery and delivery of petroleum products to our customers more effective, we will also reduce overall inbound and outbound shipping costs for Continental Refining Company," said Demetrios Haseotes, Continental Refining Company CEO/President. "We now have the added advantage in our region of shipping products farther and reducing costs, while utilizing a new resource."
The new intermodal transportation method began on July 27th for Continental Refining Company. The company is currently bringing in gasoline components for gasoline pool blending and hopes to continue procuring additional blending components going forward. In addition, the company is also buying transmix, a type of fuel produced when different fuels mix together in the fuel distribution system, which is also brought in by rail. Continental Refining Company plans to increase to up to 10 railcars per week for its transportation purposes.
"This initiative is part of the positive business environment in Somerset, KY and Pulaski County and an example of strong public-private partnership, creating jobs for families in our area," said Demetrios Haseotes. "We are excited to be able to expand operations on a national level, in this way, while also helping our local economy."
About Continental Refining Company:
Continental Refining Company, U.S. Refinery #5113, is a wholly owned crude oil refinery located on 93 acres in Somerset, KY and adjacent to intermodal rail and close to barge facilities for rapid shipping. CRC is the only crude oil refinery in Southern Kentucky located in Pulaski County. Purchased in December 2011, the company supports local crude oil producers with a dramatic decrease in transportation costs along with favorable crude rates and rapid payment cycles. CRC has a significant geographic advantage and honors the community by expanding local employment, managing for long-term prosperity and ensuring Somerset, KY is a part of meeting the demands of domestic oil products.
Continental Refining Company is one of only 150 refineries in the United States and is the closest refinery for crude oil producers within a 170-miles radius. CRC also has its own fleet of transport tankers currently hauling local crude oil, delivering finished petroleum products and picking up transmix in local, regional and national markets. Refining operations began in January 2013, processing crude oil supplied by regional producers. CRC welcomes additional regional crude oil producers as supply is expanded. For additional background information, please visit http://www.continentalrefiningco.com.
Press Contact:
Missy Shorey
Shorey Public Relations
Dallas, TX
(202) 277-7100
missy(at)shoreypr(dot)com