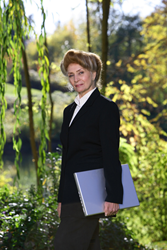 Grants Pass, OR (PRWEB) August 23, 2016
Dr. Gerald H. Pollack, Ph.D., Professor of Bioengineering at the University of Washington joined water advocate Sharon Kleyne on her radio program, The Sharon Kleyne Hour Power of Water, Global Climate Change and Your Health to talk about water vapor and water research as essential keys to health. They were especially strident about the critical need for a new, global commitment to water research, water education and putting to work advanced water technology that would solve the inflammatory international water crisis and restore evaporating water vapor and its contamination by pollution.
Kleyne, founder of Bio-Logic Aqua Research Water Life Science, reminded listeners that every living being is made of water. Water creates a shield against inflammation and disease. "You're like a walking sponge," she said. "I have been shooting the rapids with this information for decades, and I want you to understand that the water vapor keeps you alive." Kleyne urged everyone to do all they can to slow down their body's water evaporation, including the essential keys of drinking 8 to 10 glasses of water each day and learning to breathe properly. "Slow down the evaporation process," she said. "Live longer. Be healthier."
Dr. Pollack, Editor-in-Chief of WATER, couldn't agree more. Also the author of The Fourth Phase of Water, Pollack said that "many people don't understand this key point: water has energy, even the water in their bodies; and as one ages, one's water vapor evaporates much more quickly."
These facts and the global increase in disease led Kleyne and Pollack to call for more water research and advanced technology. Dr. Pollack pointed out that water research came almost to a screeching halt in the 1950s. Because of two scientific debacles, one in Russia and one in Australia, scientists around the world were encouraged to shy away from and no longer bank on water research. Dr. Pollack also referred to the rise of molecular biology as another factor keying a decline in water research. Researchers in molecular biology moved away from a more holistic practice and became fascinated with small, molecular parts. "The result?" asked Pollack rhetorically. "Water was forgotten, and that was a life-threatening, inflammatory mistake."
More water research would almost certainly key advanced breakthroughs such as Dr. Pollack's discovery of a fourth phase of water. "We've known for a long time about the three phases of water—solid, liquid, vapor," said Pollack. "The fourth phase is more like ice crystals, a kind of gel that doesn't evaporate." Kleyne explained that this fourth phase of water is nature's way of making sure that all of our water vapor never evaporates completely. "Water is the key," Kleyne said. "In all its phases, it's the best shield against the inception and spread of illness." According to Kleyne and Dr. Pollack, healing water properties are commodities you can take to the bank.