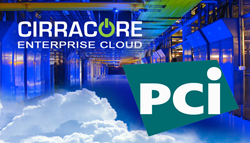 We are delighted to partner with Cirracore and to help them achieve PCI-DSS compliance" said Ben Osbrach, Skoda Minotti's partner of its Risk Advisory group
Atlanta, GA (PRWEB) August 23, 2016
Cirracore, a provider of VMware vCloud Air-based Enterprise Cloud Infrastructure as a Service (IaaS), Disaster Recovery as a Service (DRaaS), Managed Cloud Services, and Cloud Backup, today announced that it has successfully completed a PCI DSS Report on Compliance (ROC) for its Secure Cloud Infrastructure as a Service (IaaS) offering. The PCI DSS standard is an internationally recognized regulatory compliance requirement established by the Payment Card Industry. The PCI DSS requirements are established by the PCI Counsil which is an independent organization that is responsible for the data security standards required by the different payment brands. The PCI DSS audit was performed by a Qualified Security Assessor firm and examines the controls and processes involved in storing, handling, and transmitting cardholder data securely. The successful completion of the audit illustrates Cirracore's ongoing commitment to create and maintain the most stringent controls for the protection and security of its customers' confidential information. More information about Cirracore and their services can be found at http://www.cirracore.com.
The rigorous audit, which included detailed testing of Cirracore's controls, was performed by Skoda Minotti Risk Advisory, LLC, a Qualified Security Assessor that specializes in conducting data security audits. The auditor examined Cirracore's controls related to the 12 PCI DSS requirements that include:
Build and Maintain a Secure Network
Requirement 1: Install and maintain a firewall configuration to protect cardholder data
Requirement 2: Do not use vendor-supplied defaults for system passwords and other security parameters
Protect Cardholder Data
Requirement 3: Protect stored cardholder data
Requirement 4: Encrypt transmission of cardholder data across open, public networks
Maintain a Vulnerability Management Program
Requirement 5: Use and regularly update anti-virus software or programs
Requirement 6: Develop and maintain secure systems and applications
Implement Strong Access Control Measures
Requirement 7: Restrict access to cardholder data by business need to know
Requirement 8: Assign a unique ID to each person with computer access
Requirement 9: Restrict physical access to cardholder data
Regularly Monitor and Test Networks
Requirement 10: Track and monitor all access to network resources and cardholder data
Requirement 11: Regularly test security systems and processes
Maintain an Information Security Policy
Requirement 12: Maintain a policy that addresses information security for all personnel
"We are delighted to partner with Cirracore and to help them achieve PCI-DSS compliance" said Ben Osbrach, Skoda Minotti's partner of its Risk Advisory group. "Cirracore has demonstrated a commitment to meet and exceed the data security standards necessary to offer secure cloud services to their clients."
Following the audit, Cirracore received a ROC demonstrating that Cirracore's policies, procedures, and infrastructure for data protection, security, and confidentiality met or exceeded the stringent PCI DSS criteria.
"Cirracore provides secure enterprise cloud computing for national retail chain customers by allowing them to connect directly to their cloud resources over MPLS of their current carriers without traversing the Internet. The successful completion of our PCI DSS audit provides our customers with the assurance that the controls and safeguards we employ to protect and secure their data are first-rate, said Fred Tanzella, CEO of Cirracore. "
About Cirracore
Cirracore is a provider of VMware-based Enterprise Cloud Infrastructure as a Service (IaaS), Disaster Recovery as a Service (DRaaS), Managed Cloud Services, and Cloud Backup serving a global customer base. Cirracore provides Virtual Private Data Centers with dedicated resource pools for customers that need tighter security and control in their cloud. Cirracore is carrier-neutral with access to 180+ network providers to provide "on-net" Enterprise Cloud resources that do not traverse the Internet.
Additionally, Cirracore provides white-label Enterprise Cloud services to major telecom carriers and solution providers that offer IaaS to their customer base.
Visit Cirracore at cirracore.com
About Skoda Minotti
Skoda Minotti is a business advisory firm with a history of guiding clients' economic and professional success. Clients include privately held businesses, public companies, individuals, partnerships and corporations. Along with its renowned accounting, financial and tax services, Skoda Minotti offers a unique complement of advisory services including information technology, strategic marketing, professional staffing, wealth management, risk advisory services, and valuation and litigation advisory specialties to further advance the growth and success of its clients. Skoda Minotti, headquartered in Cleveland, Ohio, has offices in Cleveland, Westlake and Akron, Ohio and Tampa, Florida, and is a member of The Leading Edge Alliance. Learn more at risk.skodaminotti.com.