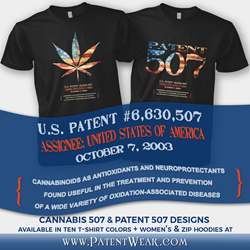 The fascinating dichotomy and essentially the key to this predicament is the United States Government.
Santa Cruz, CA (PRWEB) August 24, 2016
They're at it again. PatentWear brings history alive with its innovative idea for wearable t-shirt art created from authentic patents, and this time, the designs couldn't be more relevant.
The new t-shirt designs, Patent 507 and Cannabis 507, showcase the ironic fact that while the United States Government criminalizes the cannabis plant, declaring it illegal, classifying it as a Schedule 1 drug, and claiming it has no currently accepted medical use, it has held U.S. patent no. 6,630,507 since 2003 for the medical usefulness of certain cannabinoid compounds found in cannabis.
Cannabis for medicinal purposes has not been easy to study, especially in the USA where its legal status makes research highly restrictive. As explained in a Newsweek article by Russ Juskalian in 2010, "the vast majority of money for research comes from the National Institute on Drug Abuse (NIDA). NIDA has a congressional mandate to only study substances of abuse as substances of abuse..." thus, making research for any other purpose extremely difficult to conduct. The federal government however, with taxpayer dollars, has managed to fund some of its own studies of cannabis. Working together at the National Institutes of Health (NIH), representing the United States Government, a combined team of Nobel Prize-winning neuroscientists were granted U.S. Patent No. 6,630,507 on October 7, 2003. Patent 507 (its colloquial nickname) asserts that there are, indeed, "useful medicinal properties of cannabinoids" for "a variety of health symptoms and conditions" including relief from epilepsy, stroke, Parkinson's and Alzheimer's diseases, arthritis pain, inflammation, nausea, reductions in some brain tumors, and auto-immune diseases.
The fascinating dichotomy and essentially the key to this predicament in America today is the United States Government. There is one agency within the Department of Health and Human Services, the NIH, supporting and funding research for the medicinal benefits of cannabis while another agency within the HHS, the Office of Technology Transfer, then grants exclusive licensing of that patent to a private enterprise called Kannalife for manufacture and profit purposes, while a third government agency, the DEA, working under the Department of Justice, lists cannabis as a Schedule 1 substance defined as "the most dangerous" drugs "with no currently accepted medical use."
Whether benefits are anecdotal or science-based, a government criminalizing something for which it, itself holds a patent restricts the proper clinical studies necessary to learn more. As pointed out by Susan Goldberg, Editor in Chief, National Geographic, "The disconnect between the willingness of some states to regulate, sell, and tax marijuana and the federal reluctance to allow research to progress leaves an increasing number of people without the knowledge to make informed, science-based choices."
"This is a really hot issue right now and we think these designs can help with not only increasing awareness but stimulating participation in a movement towards changing this contradictory system—a system that seriously impacts lives," says company founder, Joe McKeown.
With its careful research, novel compositions, and exposure of surprising facts, PatentWear aims to bring awareness to the current smoke and mirrors surrounding the much-maligned cannabis plant in our country today. Without legitimate research, who can really say what health benefits and healing potential might or might not actually come from cannabis?
About PatentWear
PatentWear honors the brilliant ideas expressed through patents with fresh, original wearable art. Originally established in 1995 (and after a long hiatus while its founder built and then sailed a wooden boat throughout the South Pacific) PatentWear has since greatly expanded and updated its entire line, now available to customers in the USA and select countries worldwide. The team at PatentWear is passionate about history, inventions, and obscure-yet-exciting facts. With a healthy dose of curiosity, and a love for all things design, PatentWear's mission is to share enthusiasm for the stories and art of patents through original and inventive t-shirt designs at http://www.patentwear.com.