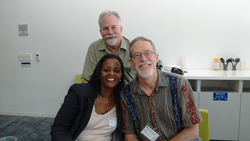 "Mrs. Parrott played a very influential role in the development of emoji in Unicode 8.0 and beyond" said Mark Davis, president of the Unicode Consortium. "She was a key contributor to the diversity emoji."
League City, Texas (PRWEB) August 31, 2016
"Let's face it – emojis started out pretty one dimensional," says the founder, Katrina Parrott. "Thanks to iDiversicons, that has all changed. And with Windows 10 integrated platform, iDiversicons users may now use our emoji on the desktop, laptop and other mobile devices. In addition, we created our iDiversicons app for the benefit of other users with Windows 8.1 and 7.0 phones."
The Full Story...
On October 11, 2013 Cub Club Investment launched iDiversicons the world's first truly diverse emoji. What an amazing journey it has been for iDiversicons after celebrating its three-year anniversary. Not only was iDiversicons the first to introduce the groundbreaking 'Five Skin Tone Standard', its founder also came up with the idea and technical solution to allow users to select from a pallet of five desired skin tone modifiers for the people emoji. Both of these concepts and ideas have been adopted and implemented by Apple and Unicode. Unicode president Mark Davis said this about the founder, "Without you we certainly wouldn't have come up with as good a solution! Now, we'll have to see how it plays out in practice; whether the new emoji modifiers are used!" Apple was the first to use the skin tone modifiers and now Google, Microsoft, Facebook, Twitter, WhatsApp and many more have co-opted it. Founder Katrina Parrott says she is "truly honored to be a pioneer of diverse emoji and humble that her idea was good enough to influence the direction taken by Apple and other major technology giants."
For Katrina Parrott, the road to becoming one of the most innovative Native App Developers began in an unlikely place: NASA JSC, where she managed their Logistics Contract.
In June of 2013, after Parrott was laid off from NASA, she decided to start her own business. At the time she was uncertain of what business to pursue until she got this idea from her oldest daughter. iDiversicons was developed jointly with her daughter Katy Parrott, a Public Health student at UT, after she expressed, "wouldn't it be nice to have emoji that look like the person sending them." Created in just five months' time, iDiversicons became the first mobile app to offer a wide range of diverse emoji characters. Katrina Parrott isn't a programmer by trade. But Parrott is the first to develop a game-changing app that has changed the way the world expresses itself through diverse emoji. At the time Parrott knew emoji would become very popular since there are approximately eight trillion text messages sent each year around the world and most of them include emoji. iDiversicons has over 900 emoji that represent various races, biracial and LGBT, religions, animals, holidays, sports, mascots, fraternities, sororities, people with disabilities, celebrities, sports figures, various hand gestures and several customized political emoji that feature Hillary Clinton and Donald Trump for the upcoming presidential election.
Following advice from her attorney, Parrott filed for a patent to protect her native app idea and the five skin tones. November was reason to celebrate for Parrott and iDiversicons, as Parrott herself joined Unicode on November 1, 2013 and on November 9, 2013, Katy Parrott hosted the first Launch Party at the University of Texas at Austin in the Student Activity Center. Up until then, Parrott was financing iDiversicons out of her own pocket, from her retirement savings. In April 2014, iDiversicons completed its first successfully funded Kickstarter Campaign. "One of the most memorable moments was when an Asian male student saw our iDiversicons emoji with an Asian boy holding hands with an African American girl. He really appreciated seeing a representation of a friend who he was dating," said Parrott.
"Our proprietary patent-pending technology is not only for the 5 skin tones modifiers, it also includes the multi-select capability and the horizontal emoji display for text messaging which are unique capabilities that are not currently available to 3rd Party Developers," said Parrott. Parrott submitted endless bug reports to Apple's Developer Technical Support for iDiversicons enhancements and was told repeatedly "our engineers have reviewed your request and have concluded that there is no supported way to achieve the desired functionality given the currently shipping system configuration." Parrott wanted iDiversicons to function just like Apple's emoji inside the text box, in-line and side-by-side with the text and no cut and paste. Since this option was not available to the 3rd Party Developers, Parrott asked Gary Evans her Senior Programmer to develop a way to make iDiversicons more user friendly. Parrott researched and Microsoft referred her to a font developer, who later made it clear that no one would allow 3rd Party Developers to add emoji fonts on their platforms.
The movement to make emoji more diverse continues to gain the media attention it deserves. In fact, it was one of the most vibrant topics of discussion during the 5 Quarterly Unicode Technical Committee meetings that Parrott attended.
On April 9, 2014, as a new member of Unicode, Katrina Parrott submitted her first iDiversicons Proposal L2/14-085 "Request Approval to add "Our New iDiversicons: Diverse Emoji" to the next updated Unicode Standard (which includes the 5 skin tones that represent various races, biracial, LGBT, religions, animals, holidays, sports, mascots, fraternities, sororities).
On May 5, 2014, Katrina traveled to San Jose, CA to the UTC hosted by Adobe (May 6-9, 2014). On May 7, 2014, Parrott gave an oral presentation to the group about iDiversicons, the World's First Diverse Emoji. Upon arrival, Parrott gave out her business cards and introduced herself to the committee. There was one open seat next to Parrott and it soon became occupied by Peter Edberg, Apple's Sr. Software Engineer. Edberg reviewed iDiversicons diverse emoji and our website. Edberg said that Apple had received several requests for a unicorn emoji and gender specific emoji for construction workers and police officers. iDiversons already had the emoji for the 5 skin tone males so its Illustrator, Johnetta Queen, created the female versions and the unicorn emoji the next day.
Parrott's presentation triggered a much-needed internal discussion regarding why diverse emoji matter. After the pitch, several committee members came up to Parrott and complimented her in person and later via email, with a collective belief that no one was taking this emoji inclusion seriously until she gave her presentation.
"Everyone made me feel right at home and it was obvious that I was surrounded by brilliance. I felt smarter just by being in the presence of so many smart people," said Parrott. "Our ultimate goal was to gain a partnership primarily with Apple because iDiversicons got its start on the iOS platform. And when Peter (Edberg) sat by me, I was too thrilled. On the opposite side was a gentleman who was representing the Bangladesh government. Unicode is international and during my visits there were only two other phenomenal women who attended regularly, Lisa Moore (Chair of UTC who recently retired from IBM) and Deborah Anderson, UTC Technical Director who works for UC Berkeley."
At the time, Apple and other mobile technology giants who have emoji on their mobile platforms were being pressured by the public to add diverse emoji. UTC assigned "Action Item 139-148 for a technical committee member to work with Katrina Parrott to map her proposed emoji to already encoded emoji and report on things that cannot be mapped for the August 2014 UTC meeting." So they proceeded to map all of the iDiversicons five skin tone emoji to the existing Unicode code points. After the UTC meeting, Edberg successfully arranged for Parrott to go to Apple's Headquarters to meet with Celia Vigil, Apple's Senior Director for Frameworks and Fonts. On May 8, 2014, to help facilitate further discussions with Apple, Parrott gave Edberg copies of iDiversicons diverse emoji to share with Celia for a potential business opportunity with Apple. That same day Murray Sargent with Microsoft sent an email with "I really enjoyed your presentation and your work reveals a real need for more emoji." Murray also mentioned iDiversicons in his Symbols and Emoji blog "For an idea of where this may go, check out iDiversicons."
On May 9, 2014, Celia sent an email response "Thank you for taking the time to meet with me. I pointed my colleagues at your application. I can also show them the images you shared with Peter (Edberg)." Parrott also gave a thumb drive of iDiversicons diverse emoji to Mark Davis, Unicode's President to share with Google. These files contained approximately 170 iDiversicons diverse emoji.
In June of 2014, Parrott added 600 more diverse emoji to iOS along with the multi-select feature and the capability to use emoji in social media. The Android version of iDiversicons was released in June to the Google Play Store.
On August 5-8, 2014, Katrina Parrott attended her second UTC Meeting hosted by Microsoft in Redmond, WA. Katrina and Shervin Afshar presented her 2nd Proposal L2/14-154 & L2/14-154R which segregated iDiversicons Five Skin Tones emoji by Unicode code points and categories. iDiversions emoji collection was categorized into five major skin tones by gender, skin tone combinations, clothing, hair style and color, complexion and clothing color.
In addition, another primary topic on the agenda was to decide and reach an agreement of how many emoji skin tones Unicode would adopt for the mobile platforms. Parrott was adamant during the UTC discussion to make sure Unicode agreed with an emoji skin tone quantity adequate enough for diverse emoji representation (having only three skin tones was totally unacceptable). The UTC agreed to a quantity of five skin tones. Parrott was then asked to submit iDiversicons methodology for their Five Skin Tones Variants under Proposal L2/14-204 which represents the skin tones of people all around the world. During the same meeting Andrew Glass from Microsoft recommended an alternative use of the Fitzpatrick scale from a Google search and UTC decided to tie the Five Skin Tones to the Fitzpatrick Scale.
On August 13, 2014, Andrew Glass Ph. D. Program Manager of Microsoft sent Parrott a note "Great to meet you at the UTC meeting last week in Redmond. Thank you for attending and driving committee toward a solution for diversity for emoji. I think the new additions for skin tones was one of the most important encodings I have witnessed over the past five years that I have been attending regularly." Between August 22 – 28, 2014, Parrott was so inspired that she decided to share iDiversicons accomplishments with other companies by sending letters to WhatsApp's CEO (Jan Koum), Facebook's CEO (Mark Zuckerberg) and Twitter's CEO (Dick Costolo) to spread the diverse emoji excitement to every major platform developer.
On October 23, 2014, Peter Edberg sent Parrott the news in an email "Apple has its own team of human interface designers who want to handle all aspects of the emoji design, Celia Vigil does not see an opportunity for collaborating or partnering with iDiversicons."
On October 27-30, 2014, Katrina Parrott attended her 3rd UTC meeting hosted by Apple in Sunnyvale, CA. One of the key topics and questions during this meeting was to decide how these mobile technology giants with Apple leading the way, would figure out the most technically feasible and cost effective way to architecturally implement the five skin tones modifiers with the different variations. "During the break I pulled Mark Davis (Google) and Peter Edberg (Apple) out in the hallway of the meeting and told them 'I have the solution…I wanted to share it with them first before sharing it with the entire committee (Apple, Google, Microsoft, Adobe, IBM, etc).' My solution was for Apple, Google, Microsoft and other emoji providers to create a five skin tone color modifier pallet so that the users may select the skin tones that they choose to create for their people emoji and family emoji representation." This approach, Parrott said, prevents complaints from users and allows them to have the flexibility to choose the skin tones for the people emoji that looked like them or that represents their diverse families. "When I rejoined the meeting and gave UTC the solution," said Parrott "the entire room got silent."
That evening at dinner "I thanked Peter for everything that he had done to help iDiversicons succeed. In addition, I told him that I was concerned that my business would suffer significantly when Apple comes out with their diverse people emoji."
In November 2014 came the First Emoji Short Story Contest and iDiversicons added the David Justice, Billy Dorsey and Pastor Antonio Smith emoji.
On December 20, 2014 iDiversicons App was elevated to another level with the new iOS Keyboard. During the same month, iDiversicons Android app was made available through Amazon's app store.
Next Parrott was asked to create a Ray Lewis emoji in partnership with United Athletes Foundation. The Ray Lewis Never Quit emoji was created in January 2015 just before the Super Bowl. Parrott was then invited to Phoenix and joined the festivities of the super bowl with former NFL player Reggie Howard. In addition, "We were hoping that the Ray Lewis emoji would explode and decided to make Apple aware ahead of time," Parrott said.
On February 2-5, 2015, Katrina Parrott attended another UTC meeting hosted by Google in Mountain View, CA. Parrott was asked to submit another Proposal L2/15-048 on January 31, 2015, "Adding Gender Counterparts to Emoji List." The purpose for this proposal was to bring to UTC's attention for discussion about the unpaired gender specific symbols: bride with a veil without a groom and princess without a prince.
On February 23, 2015, Parrott submitted a presentation to Apple PR and it was forwarded to their Editorial Team. Parrott was elated "When I found out that iDiversicons was featured in the App Store for GIFs & Emoji keyboards."
On April 9, 2015 Apple introduced its new racially diverse emoji allowing users to select from the five skin tone modifier pallet.
On April 11, 2015 Katrina Parrott submitted a one minute video to Mika Brzenzinki's "Know Your Value Contest" in Washington DC (where she was born and raised) for a chance to win $10,000.
On May 18, 2015, Disability Rights Leader/ Broadcaster Greg Smith, "The Strength Coach" partnered with iDiversicons, the world's first diverse emoji keyboard, to introduce new "Disability Pride Emojis" in celebration of the 25th Anniversary of the Americans with Disabilities Act. "My dearest friend Greg Smith has inspired us all with his resilience and inner strength was born with muscular dystrophy and told that he would not live beyond his teens," Parrott said. "He was 51 when we added disability emoji to our set and he has three grown children. We also receive a request for custom Tishin Donkerslely emoji , which was completed in May."
On September 2, 2015 Parrott sent letters to Sony Pictures Animation, Kristine Belson, President and Anthony Leondis, Director and the subject was "How A More Diverse Emoji Movie Can Be A More Profitable Emoji Movie. And as the pioneers in truly diverse emoji, we are certain that your audience will appreciate the variety that we have to offer."
However, as the resources became more and more scarce Parrott was forced to seek employment and had to discontinue participation in the weekly Emoji Subcommittee meetings.
On November 13, 2015, God blessed her with an incredible opportunity as a Procurement Agent with The Boeing Company in Seattle, WA. Parrott tries to go home as much as possible to visit her retired husband and her two daughters who are 24 and 15. Katy, at age 24 is finishing the last year of her masters in Public Health from UT.
In July 2016, Mehr Jahangiri sponsored the development of our new iDiversicons Windows 10 & Windows 8.1 mobile app. Microsoft's Windows 10 is a major upgrade launched this year that integrates a full range of platforms.
On August 4, 2016, Parrott attended an emoji session at the UTC hosted by Microsoft in Redmond, WA. Later that evening at dinner with Apple's Sr. Software Engineer Peter Edberg, Parrott reflected on her journey and how far she's come in bringing diversity to the forefront of the conversation. Edberg agrees.
This summer iDiversicons added the side-by-side horizontal display to its iOS Keyboard. With this change, iDiversicons now offers an even smaller emoji to the other two sizes we already have.
In the press:
"Houston business wants in on new Hollywood movie" – Houston Chronicle
"Mom's new line of diverse emoticons includes same sex couples, brown faces" – Houston Chronicle
"The future of emoticons will embrace everyone" – PCWorld
"LC Woman's company creates emojis for everyone…Apple of her idea" – Galveston Daily News
"A Houston Woman Has Created a Whole New World of Emoji For the 21st Century – Texas Monthly
"Diverse Emojis Are Here With iDiversicons" – Oyster
"iDiversicons Gives Us The Emoji Diversity We Need (Finally!) – BUSTLE
"The Emojis You've Been Waiting For Already Exists" – SEVENTEEN
"Some of the feedback I received was: Katrina, I don't think anyone was taking this diverse emoji seriously until you came and gave your presentation to the committee." – Yahoo National News
"iDiversicons. The New Face of Diverse Emoji" – Racing Toward Diversity Magazine
Chattin' Diversity, Emojis, and Representation with iDiversicons' Katrina Parrott – Amy Poehler's Smart Girls
Galveston Daily News also reported this "Mrs. Parrott played a very influential role in the development of emoji in Unicode 8.0 and beyond" said Mark Davis, president of the Unicode Consortium. "She was a key contributor to the diversity emoji that will be released in June and have already appeared in products, and to proposals for additional emoji in general."
For more information about iDiversicons, The World's First Diverse Emoji, please email Katrina Parrott at katrina(at)idiversicons(dot)com.
iOS Keyboard
https://itunes.apple.com/us/app/idiversicons.-worlds-first/id947572946?mt=8
Android Version
https://play.google.com/store/apps/details?id=com.wwc.cci
Windows iDiversicons App
Windows Version 8.1 & 7.0
https://www.microsoft.com/en-us/store/p/idiversicons-the-worlds-first-diverse-emoji/9nblggh5xh9x
Windows 10
https://www.microsoft.com/en-us/store/p/idiversicons-the-worlds-first-diverse-emoji-windows-10/9nblggh5g17t
###