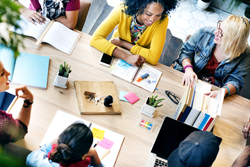 The occasional fun activity at work not only lifts our spirits and relieves stress, but it also makes it easier to cope with pressure and helps us to complete tasks to a higher standard
London, England (PRWEB UK) 24 August 2016
London School of Marketing has released a blog post about how HR managers across the UK are implementing a better balance between work and leisure in the office, to enable employees to cope with long hours and demanding workloads.
The blog post considers some of the benefits of introducing more 'play time' into the workplace. It explains how fun activities provide workers with much needed stress relief, help them to handle work-related pressure and enable them to return to their tasks with renewed energy.
Chrishanthi Ranwaweera, LSM student supervisor, said: "With so many of us taking on long hours and heavy workloads, it's more important than ever to make sure we have time to unwind.
"The occasional fun activity at work not only lifts our spirits and relieves stress, but it also makes it easier to cope with pressure and helps us to complete tasks to a higher standard."
The post goes on to look at companies which have incorporated fun into the workplace, including Google, which has introduced music rooms, whiteboard walls and comfy sofas, and Mind Candy, where employees have access to slides, ping-pong tables and beanbags.
The full blog post, including a more detailed look at how HR managers are introducing a 'work hard, play hard' ethic into the office, can be viewed here. The internationally recognised qualifications offered by the school, including its HR management qualifications, can be viewed at http://www.londonschoolofmarketing.com/our-courses.
London School of Marketing delivers accredited marketing and business qualifications, and offers professional courses from recognised professional bodies such as CIM, EduQual and academic qualifications on Marketing, Business, Finance, Law and HRM from Anglia Ruskin University and The University of Northampton. Based in Central London, they are a QAA approved institution. The school also has offices in Sri Lanka, a network of Local Access Points (LAPs), and online programmes of learning.