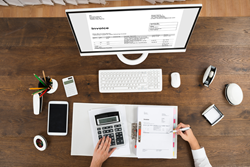 If you are determined to secure a well-paid role and quickly climb the career ladder, an MSc in Accounting and Finance may be your best option
London, England (PRWEB UK) 25 August 2016
London School of Marketing's latest blog post stresses the importance of choosing the right qualification if you want to launch a career in accounting and finance. It is an extremely well paid industry, the post explains, with chartered accounts regularly earning more than £30,000 and senior financial analysts making an average of £46,157.
Anton Dominique, LSM chief marketing officer, said: "Accounting and finance is an exciting, lucrative profession to work in, and it's vital to make sure that you choose the qualification which matches your ambitions.
"If you are determined to secure a well-paid role and quickly climb the career ladder, an MSc in Accounting and Finance may be your best option."
A shortfall of qualified accountants has been forecast, meaning there has never been a better time to enter the profession, the post reveals.
Readers are given an insight into the kinds of skills and knowledge that students who study for an MSc in Accounting and Financing at LSM develop – and how they can help them to secure their perfect role after graduation. This challenging and rewarding course teaches students key skills in strategy development, ethics, global finance, data analysis and problem-solving.
The full blog post, including a more detailed look at the importance of choosing the right Accounting and Finance qualification, can be viewed here. The internationally recognised qualifications offered by the school, including its MSc in Accounting and Finance, can be viewed at http://www.londonschoolofmarketing.com/our-courses.
London School of Marketing delivers accredited marketing and business qualifications, and offers professional courses from recognised professional bodies such as CIM, EduQual and academic qualifications on Marketing, Business, Finance, Law and HRM from Anglia Ruskin University and The University of Northampton. Based in Central London, they are a QAA approved institution. The school also has offices in Sri Lanka, a network of Local Access Points (LAPs), and online programmes of learning.