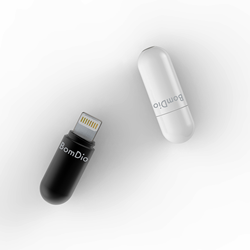 Hong Kong, Hong Kong (PRWEB) August 24, 2016
BomDio is set to release this revolutionary new Lightning to 3.5mm converter, available just in time for the new iPhone 7 and iPhone 7 Plus/Pro release. With the upcoming release of the iPhone 7, all the earphones and headphones with the traditional 3.5mm audio jack will not be compatible, making this a valuable addition.
The device, which obtains the shape of a simple capsule, is a minimalist's dream product. This device is very simple to use with no instruction needed, one simply plugs the BomDio HUSK into the Lightning port of the new iPhone and has an outer port for your 3.5mm headphone jack. The product will be very light weight for users to carry around without any hassles.
With a team with many years of audio and iPhone accessory experience, and seeing this need with the new iPhone 7, BomDio wants to help make a difference with this conversion issue that we foresee arising. This project is co-operated by BomDio and a partner who is a strong public company out of Taiwan in manufacturing.
The campaign is seeking investors to help raise $50,000 to be able to mass produce these devices to be able to offer this to anyone needing this invaluable piece of technology. The initial $10,000-$15,000 will go towards product tooling, while the remaining will be set for mass producing 2000 devices and other miscellaneous needs. This will produce a working device in two weeks' time, with shipping being available in October of this year. BomDio is hoping to serve the community with this technology so everyone can use their favorite headphones with their new iPhones.
For more information, please visit our page at: https://www.indiegogo.com/projects/world-s-first-bomdio-lightning-to-3-5mm-converter-iphone/x/14778471#/
Contact Information: Desmond
E-mail: info(at)tbs-network(dot)com