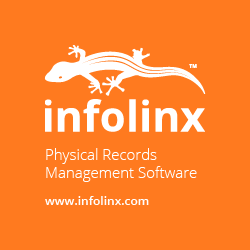 Kensington, MD (PRWEB) September 20, 2016
Infolinx System Solutions™, a leading provider of enterprise physical records management software, will be exhibiting at the 2016 ARMA Live! Conference and Expo. The conference is the premier event for records manager and information governance professionals being held at the Henry B. Gonzalez Convention Center, San Antonio, Texas, September 25-27.
The conference offers sessions on an array of subjects of interest to information management stake-holders at all levels of the profession. Conference sessions focus on providing cutting-edge solutions to the challenges information governance professionals face today, such as developing automated, accurate retention schedules, managing mobile technologies, and outsourcing information to the cloud.
Currently implemented as either an on-premises or cloud-based solution by multiple major clients, Infolinx will be highlighting its enterprise DoD5015.2-certified physical records management product, Infolinx WEB. In addition to the industry's leading native feature-set, multiple integrations including Microsoft's SharePoint, Laserfiche Records Manager, O'Neil Data Tech's oneilBridge, and Kofax Capture, are also supported.
"As a veteran ARMA exhibitor, we are looking forward to the dynamic and informative presentations as well as connecting with fellow members," said Tim Butler, Infolinx Managing Director.
About Infolinx®
Infolinx System Solutions is a leading provider of DoD5015.2-certified enterprise physical records management software. Full life-cycle records management for archives, records centers, and file rooms includes integrated Enterprise Content Management, third-party warehouse integration, robust searching, online requesting, complete audit history, location reconciliation, supply item ordering, retention schedule and legal holds management, integrated RFID technology, space management with charge-back functionality, extensive reporting capability, advanced security configuration, workflow email notifications, and legacy data sharing. Available as an on-premises or cloud-based solution, Infolinx maintains clients within all major business segments and the public sector. Infolinx System Solutions Demo.