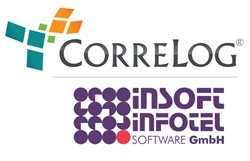 CorreLog's product line uniquely complements our existing product and services offerings, ideally providing the European market with reliable products and local, reliable support.
Naples, FL (PRWEB) August 24, 2016
CorreLog, the leader in multi-platform IT security event log management, today announced a partnership agreement with InSoft Infotel, provider of mainframe software solutions, development, training, and consulting for businesses throughout Europe. The key component of the partnership will center around CorreLog's mainframe security solutions designed to deliver real-time mainframe event message data to distributed Security Information and Event Management or SIEM systems. Under the partnership, Infotel, France and InSoft Infotel Software GmbH, Germany, will address an increasing demand from European markets seeking tighter controls for security and compliance across highly complex and heterogeneous IT infrastructures.
"SIEM systems were originally designed for distributed environments with little concern for the mainframe," said George Faucher, president and CEO of CorreLog, Inc. "Fifteen years ago (and still prevalent today), when data governance and auditing controls were evolving into SIEM, mainframe and distributed security people and processes were highly polarized, and there was little interaction between the two to secure data. We're helping clients bridge this IT security gap in North American and InSoft (Infotel) will be helping us do the same in Europe."
"InSoft Infotel is looking forward to working with CorreLog," said Colin Oakhill, Infotel strategic advisor for InSoft. "CorreLog's product line uniquely complements our existing product and services offerings, ideally providing the European market with reliable products and local, reliable support."
CorreLog Products Featured in the Agreement
The product distribution agreement will center around the following CorreLog mainframe products:

SIEM Agent for IBM® z/OS – In real-time, SIEM Agent for z/OS delivers security event messages from z/OS to distributed SIEM systems and IT Security Operations Centers. SIEM Agent auto-formats event messages from RACF, CA-ACF2, CA-Top Secret, DB2, IMS, CICS, IND$FILE, FTP, TCP/IP and other facilities and in real time, exports the messages to a SIEM or IT SOC. | More info
dbDefender™ DAM Agent for IBM® DB2® – dbDefender™ provides real-time Database Activity Monitoring (DAM) for both DB2 and IMS databases with an agent-based software program. dbDefender™ monitors database activity for any sign of unauthorized access or attempt to view datasets, then sends a real-time notification to a SIEM or IT SOC. | More info
Visualizer for IBM® z/OS – An affordable SIEM system, CorreLog Visualizer was specifically designed and pre-configured for use by z/OS security administrators and system programmers. It provides visibility and point-and-click functionality from a standard web browser into z/OS security and operational events. | More info
CorreLog Mainframe Product Integration
CorreLog Mainframe solutions are designed to deliver real-time notifications from RACF, ACF2, Top Secret, DB2 and IMS directly to any Windows- or UNIX-based SIEM system. CorreLog Mainframe SIEM solutions are highly interoperable and have certified integrations with the following distributed SIEM systems:

IBM QRadar SIEM
HP ArcSight SIEM
RSA Security Analytics
McAfee ESM & DAM
Solutionary (MSSP)
Micro Focus NetIQ
Fortified Health Security Solutions
Additionally, SIEM Agent for z/OS has field integrations with Splunk, LogRhythm, Dell SecureWorks, and many others. For more information about SIEM Agent for z/OS or other CorreLog product integrations, please contact CorreLog support directly.
About InSoft Infotel:
InSoft Infotel Software GmbH, a member of the Infotel Group, is a software development, training and consulting firm specializing in mainframe and client/server systems, electronic archiving, and database systems. Based in Düsseldorf, Germany, and founded in 1986, InSoft Infotel Software GmbH now supports more than 350 customers, worldwide, including many major companies in all industries. For more information about InSoft, please visit: http://www.infotel.com (France) or http://www.insoft-software.de (Germany).
About CorreLog:
CorreLog, Inc., a privately held corporation, is an independent Security Information & Event Management (SIEM) software vendor that has produced software and framework components used successfully by hundreds of private and government organizations worldwide. Our core solutions provide visibility across both mainframe and distributed systems on user activity that is indicative of cyber threat. Since 2008, CorreLog, Inc. has been committed to delivering better decision-support solutions for InfoSec and security auditing professionals who need more advanced perimeter security and improved adherence to PCI DSS, HIPAA, SOX, IRS Pub. 1075, GLBA, FISMA, NERC and other industry standards for securing data. Our solutions are designed to be highly interoperable and complementary to clients' existing IT investments.
We consider our technology approach to be unique in both personnel and product and we believe our solutions pass the test of low total cost of ownership with high SIEM functionality. For more information on CorreLog products, please visit http://www.correlog.com.
Copyright © 2016, CorreLog, Inc. All rights reserved.
All trademarks and registered trademarks used herein are the properties of their respective owners.
Press Contact CorreLog, Inc.:
Tony Perri, Marketing & PR Director
Phone: (239) 514-3331, xt. 406
1004 Collier Center Way, 1st Floor
Naples, FL USA 34110
Contact Link
Press Contact InSoft Infotel Software GmbH:
Carry Franke, Distribution Director
Phone: ++49 (0) 211 44 03 16-6
Sternstrasse 9 – 11
40479 Düsseldorf, Germany
Contact Link