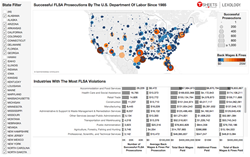 The FLSA research tool will be a valuable resource to business owners, HR professionals and legal professionals. --Edward Costelloe
Boise, Idaho (PRWEB) August 23, 2016
TSheets, the employee time tracking app, and Lexology, the legal research platform, announce the release of a new FLSA lawsuit research tool. The tool will enable business owners to gain new insight into steeply rising wage and hours lawsuits brought under the Fair Labor Standards Act.
Private lawsuits have risen 456% since 1995, while Department of Labor investigations have collected more than $1.1 billion in back wages since 2009. These are alarming statistics for business owners, and new FLSA regulations set to take effect on December 1, 2016 are likely to cause a new wave of prosecutions when the overtime threshold doubles to more than $47,000.
Edward Costelloe, Managing Director of Lexology, says: "We are excited about the opportunity to give our subscribers insight into the potential FLSA liability their clients may be exposed to. The FLSA research tool will be a valuable resource to business owners, HR professionals and legal professionals. It will make FLSA compliance more transparent and potentially cheaper."
Matt Rissell, CEO of TSheets, adds, "The FLSA is relevant to almost every employer in the U.S. and with the looming overtime regulations estimated to affect at least four million employees, businesses everywhere need to act today to get the insight they need to prepare and protect themselves."
Rissell continues, "Our research shows that four out of every five Labor Department investigations leads to a prosecution. These costs can be devastating — but so could the overtime costs that are about to hit. If you don't know how many hours your salaried employees beneath the threshold are working, it's time to find out — as soon as possible."
Keri Nelson, executive director of the Rockford, IL, Habitat for Humanity says, "We were honestly shocked to find out that many of our salaried staff members were putting in way more than 40 hours a week. That information gives us the power to make an informed decision about how to comply with the new FLSA regulations, while keeping our employees whole."
Explore the interactive FLSA wage and hours research tool here.
About TSheets
TSheets is quickly making paper timesheets obsolete. With go-anywhere, cloud-based timesheets that integrate with top accounting and payroll software, TSheets gives employees and employers (plus their accountants and payroll managers) in 100+ countries mobile, flexible tools to track what happens at the office and in the field. TSheets helps business owners prepare for the new 2016 overtime regulations and with FLSA compliance by ensuring accurate hours for payroll, providing an easily accessible audit log, giving business owners overtime management tools, and providing resources to help business owners navigate these complicated regulations.
About Lexology
Lexology is the global legal knowledge base that helps legal professionals and business leaders to stay informed on the topics and issues they need to know about. Lexology delivers targeted electronic updates, perspective and analysis written by members of top law firms around the globe, Lexology allows 280,000 legal professionals worldwide to be better informed and more productive so they can be successful in their careers and more valuable to the firms that employ them.