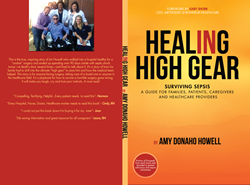 With patients, families, and health care facilities working together, we can save lives beginning today!
Memphis, Tennessee (PRWEB) August 23, 2016
September is national Sepsis Awareness Month, and today Amy Donaho Howell announces the launch of her new book "Healing in High Gear, Surviving Sepsis: A Guide for Families, Patients, Caregivers and Healthcare Providers." It's a true and inspiring story of how her family shifted into the ultimate high gear to survive septic shock twice and how the medical team played a key role.
Gary Shorb, CEO of Methodist Le Bonheur Healthcare, wrote the foreword. "Sepsis is a serious, life-threatening complication, and for health care leaders, it is important to focus on aggressively working to improve patient safety, reduce clinical treatment variability, enhance communication, increase transparency, and improve systems of care," says Shorb.
Howell tells the story of how her husband Jim, who went in for a "routine" surgery, became terribly septic and nearly died twice from septic shock. The book outlines how fast action and a caring medical team who listened saved the life of Jim Howell. As hospital systems balance quality care and medical errors that can lead to sepsis, "Healing in High Gear" is a new tool in the fight against this often silent killer.
"Sepsis or septic shock, if not caught early, is usually fatal," says Dr. Mark Miller, the surgeon who helped save Jim. Sepsis kills more people than most diseases combined and ranks as the third leading cause of death behind cancer and heart attacks. Howell illustrates how important early detection is and gives great insight into the signs and symptoms of sepsis.
"We are excited for the Howell family, who has become an extended part of our Methodist family, since Jim spent 100 days in the hospital fighting this battle," says William Kenley, CEO of Methodist Le Bonheur Hospital Germantown. "This book is an important milestone in telling the story of how families and advocates improve the quality of patient care," Kenley adds.
Turning a near-fatal experience into an awareness campaign with a new champion, Amy Howell is advancing the sepsis conversation to include hospital protocols, legislative awareness, public education, patient advocacy, and the social media hashtags #ThinkSepsis and #SepsisAwareness. New York and Illinois are the only two states in the U.S. with legislated sepsis protocols in the ER and that's something Howell hopes to see changed with "Healing in High Gear."
"With patients, families, and health care facilities working together, we can save lives beginning today!" says Howell.
The book, Howell's third, is available on Amazon for $17. A portion of the proceeds will benefit sepsis awareness and patient advocacy.
Follow the conversation on Twitter using the hashtags #SepsisAwareness and #HiHG and visit HealinginHighGear.com for more resources.
Amy D. Howell is CEO of Howell Marketing Strategies, a public relations and marketing firm headquartered in Memphis, TN. She is also the co-author of "Women in High Gear" and "Students in High Gear" with Anne Deeter Gallaher, CEO of Deeter Gallaher Group LLC, a public relations and marketing firm with offices in Harrisburg, PA and Nashville, TN.