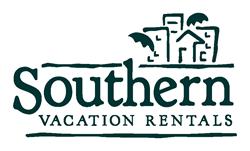 Destin, FL (PRWEB) August 24, 2016
Southern Vacation Rentals – a locally owned and operated company that specializes in Northwest Florida vacation rentals as well as condos and beach homes in Coastal Alabama – reported record-breaking revenue for the month of July, making 2016 their best year to date. The Gulf Coast is well-known as a top vacation destination, but this summer has been particularly active. Southern Vacation Rental's impressive season is due to a combination of diverse vacation rentals on the Gulf Coast, which appeals to a wide-range of travelers, as well as dedicated marketing and sales team.
"I am so proud of our sales team. They really put their heart into making sure each customer got exactly what they wanted. Of course, we have great vacation rentals, and that is a major selling point, but it takes a team effort to reach this level," said Joe Casal, Reservations Manager. "I'm already planning ways to reward the team and really celebrate the success we had this season, especially July."
Southern Vacation Rentals certainly has reason to celebrate, with reports indicating that revenue for the month of July exceed last year by millions of dollars. The company attributes their success to many factors. This includes a wide selection of vacation rentals in Northwest Florida and Coastal Alabama, with options ranging from one bedroom condos to luxury beachfront home rentals. Their knowledgeable and experienced sales and marketing team also worked tirelessly to promote each beach community and its rentals, as well as book each available property at Southern's competitive rates.
Southern Rentals and Real Estate is a premier provider of vacation rental, residential leasing, real estate and property management services in Northwest Florida and Coastal Alabama. Established in 1995, the company is owned and operated by two sets of brothers, Brad and Mike Shoults and Kevin and Kerry Veach, and Susan Carleton. Southern represents nearly 1,000 vacation rentals, approximately 1,000 long term rentals, countless real estate opportunities and more than 40 associations along the Gulf Coast. The Southern family of companies includes Southern Vacation Rentals, Southern Residential Leasing, Southern Real Estate Sales, RE/MAX Southern and Southern Association Management.
For more information, visit GoSouthern.com.