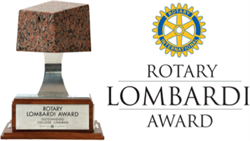 Houston, TX (PRWEB) August 25, 2016
The Rotary Lombardi Award committee announced a preliminary watch list of college football players who have the potential to win the honorable Rotary Lombardi Award for the 2016/2017 football season.
The starting list of 158 candidates are players who demonstrate outstanding performance and skill in offensive or defensive positions and best exemplify the discipline, virtue and wisdom that defined Vincent Lombardi's exceptional brand of leadership. The players gained a position on the preliminary watch list by earning All-American honors, being named to their respective all-conference teams, or by receiving 2016 pre-season honors.
The Rotary Lombardi Award began in 1970 by the Rotary Club of Houston to honor NFL coach Vince Lombardi and to recognize outstanding college football lineman. The award began as recognition to only interior line positions that Vince Lombardi played while an undergraduate at Fordham University (offensive and defensive guard), and later expanded to include linebackers and tight ends, with the addition of including non-performance values: leadership, courage, desire, respect for authority, and discipline.
The 47th Annual Rotary Lombardi Award continues the evolvement of the Lombardi legacy by now expanding the eligibility of the award to all player positions that are outstanding performers and exhibit great leadership attributes. Following the preliminary watch list, a nomination period will open to the internal selection committee to add additional players who meet the skill and leadership standards set forth for the Rotary Lombardi Award.
"We're honored to be a part of the year in which the Rotary Lombardi Award reaches new heights by expanding the positions in which players are eligible for the award," said co-chair Billy Bray. "We're aiming to honor the award recipient in a big way as well as surpass previous funds raised at this event to continue the fight against cancer."
As stipulated by Vince Lombardi's widow, Marie, when the award began, net proceeds from the award activities are contributed to cancer research and children who cannot afford treatment to fight the disease that claimed the life of Vince Lombardi. The Rotary Lombardi Award continues to be hosted by the Rotary Club of Houston and benefits the American Cancer Society, MD Anderson Cancer Center and the Texas Children's Hospital.
The award ceremony date will be announced later in the football season along with updated lists of award candidates.
ROTARY LOMBARDI AWARD WATCH LIST:
Name Position School
Montravius Adams DT Auburn
Otaro Alaka OLB Texas A&M
Brian Allen OG Michigan State
Jonathan Allen DE Alabama
Ryan Anderson OLB Alabama
Zach Banner OT USC
Saquon Barkley RB Penn State
Derek Barnett DE Tennessee
J.T. Barrett QB Ohio State
C.J. Beathard QB Iowa
Kendell Beckwith ILB LSU
Vince Biegel OLB Wisconsin
Adam Bisnowaty OT Pittsburgh
Ben Boulware ILB Clemson
Caleb Brantley DT Florida
Matt Breida RB Georgia Southern
DeAngelo Brown DT Louisville
Orlando Brown OT Oklahoma
Jake Browning QB Washington
Riley Bullough ILB Michigan State
Jake Butt TE Michigan
Tom Cameron C Southern Miss
Josh Carraway DE TCU
Lorenzo Carter OLB Georgia
Nick Chubb RB Georgia
Corey Clement RB Wisconsin
Mason Cole C Michigan
James Conner RB Pittsburgh
Dalvin Cook RB Florida State
Tyrell Crosby OT Oregon
Troy Crowder OG Clemson
Zach Cunningham ILB Vanderbilt
Ed Davis OLB Michigan State
Jarrad Davis OLB Florida
J.J. Dielman OT Utah
Josh Dobbs QB Tennessee
Evan Engram TE Ole Miss
Pat Elflein C Ohio State
Luke Falk QB Washington State
Folorunso Fatukasi DT Connecticut
Dan Feeney OG Indiana
Devonte Fields DE Louisville
Salamo Fiso OLB Arizona State
Kylie Fitts DE Utah
Reuben Foster ILB Alabama
Leonard Fournette RB LSU
Royce Freeman RB Oregon
Kyle Fuller C Baylor
Wayne Gallman RB Clemson
Myles Gaskin RB Washington
Myles Garrett DE Texas A&M
Avery Gennesy OT Texas A&M
Ryan Glasgow DT Michigan
Davon Godchaux DT LSU
Colby Gossett OT Appalachian State
Jay Guillermo C Clemson
Daeshon Hall DE Texas A&M
Darius Hamilton DT Rutgers
Da'Shawn Hand DT Alabama
Charles Harris DE Missouri
Marquis Haynes DE Ole Miss
Jon Heck OT North Carolina
Bucky Hodges TE Virginia Tech
Deon Hollins OLB UCLA
Elijah Hood RB North Carolina
O.J. Howard TE Alabama
Sam Hubbard DE Ohio State
Jalen Hurd RB Tennessee
Maurice Hurst DT Michigan
Mitch Hyatt OT Clemson
Martez Ivey OG Florida
Malik Jefferson ILB Texas
Josey Jewell ILB Iowa
Dorian Johnson OG Pittsburgh
Jaleel Johnson DT Iowa
Roderick Johnson OT Florida State
D.J. Jones DT Ole Miss
Jarron Jones DT Notre Dame
Nazair Jones DT North Carolina
Brad Kaaya QB Miami
Kyle Kalis OG Michigan
Chad Kelly QB Ole Miss
Keith Kelsey ILB Louisville
Arden Key DE LSU
Micah Kiser ILB Virginia
George Kittle TE Iowa
Forrest Lamp OT Western Kentucky
Harold Landry DE Boston College
Carl Lawson DE Auburn
Elijah Lee OLB Kansas State
Jordan Leggett TE Clemson
Tyquan Lewis DE Ohio State
Nick Linder C Miami
shock Linwood RB Baylor
Lowell Lotulelei DT Utah
Patrick Mahomes QB Texas Tech
Damien Mama OG USC
Jamal Marcus DE Akron
Hercules Mata'afa DE Washington State
Jaylen Reeves-Maybin OLB Tennessee
Baker Mayfield QB Oklahoma
Christian McCaffrey RB Stanford
Conor McDermott OT UCLA
Malik McDowell DT Michigan State
James McFarland DE TCU
Mike McGlinchey OT Notre Dame
Takkarist McKinley DE UCLA
Raekwon McMillan ILB Ohio State
Matt Milano OLB Boston College
Calvin Munson OLB San Diego State
Lewis Neal DE LSU
Hardy Nickerson ILB Illinois
Tyler Orlosky C West Virginia
Daron Payne DT Alabama
Samaje Perine RB Oklahoma
Caleb Peterson OG North Carolina
Harrison Phillips DT Stanford
Ethan Pocic C LSU
Billy Price OG Ohio State
Donnel Pumphrey RB San Diego State
Greg Pyke OG Georgia
Jake Replogle DT Purdue
Cam Robinson OT Alabama
Isaac Rochell DE Notre Dame
Larry Rose III RB New Mexico State
Josh Rosen QB UCLA
Chase Roullier OG Wyoming
Mason Rudolph QB Oklahoma State
Seth Russell QB Baylor
Jaylen Samuels TE/FB North Carolina State
Nico Siragusa OG San Diego State
Dan Skipper OT Arkansas
Braden Smith OG Auburn
Cameron Smith ILB USC
Dawuane Smoot DE Illinois
Steven Taylor OLB Houston
Chad Thomas DE Miami
Solomon Thomas DE Stanford
Dalvin Tomlinson DT Alabama
Eddie Vanderdoes DT UCLA
Anthony Walker ILB Northwestern
Charles Walker DT Oklahoma
DeMarcus Walker DE Florida State
Greg Ward, Jr. QB Houston
Carlos Watkins DT Clemson
Deshaun Watson QB Clemson
Davis Webb QB California
Sean Welsh OG Iowa
Christian Wilkins DT Clemson
Connor Williams OT Texas
Tim Williams OLB Alabama
Tre Williams OLB Auburn
Deatrich Wise, Jr. DE Arkansas
Chris Wormley DT Michigan
Taylor Young OLB Baylor