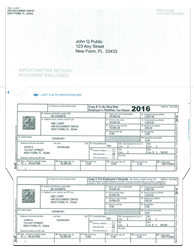 TransForm64 is the newest tax form innovation in years
BOCA RATON, FL (PRWEB) August 24, 2016
As stirrings of the 2016 tax season begin, Laser Substrates, Inc. wants tax preparers and small business accounting departments to know one thing; there's no need to overspend on pre-printed tax forms this year. Laser Substrates' TransForm64 tax form self mailers are less costly when compared to conventional versions, with a host of additional benefits including greater security.
"If tax preparers want to start the 2016 tax season off right, they should begin by skipping the 'Order Forms' button within their accounting software," explains Mark Nelson, Director of Operations at Laser Substrates. "Those forms cost nearly three times as much as the Laser Substrates' self-mailers. Not only are TransForm64 tax forms more efficient and economical, they are much more convenient, secure, and better protect confidentiality."
All TransForm self-mailers work cohesively with Laser Substrates' secure, web-based TransForm64 software, which prints the forms in one pass through any non-impact home or office printer from any Windows-based accounting software.
Other benefits include:

Due to the self-mailer format, these forms can go directly from the printer to the mailbox. No envelope or folding/sealing equipment is required.
Since the forms are blank, they don't become obsolete from tax year to tax year like traditional pre-printed forms. Instead, the user-friendly, downloadable TransForm64 software is updated annually to reflect the current year's data.
These mailers eliminate confidentiality breaches by having all copies self-contained within a single form. This is in stark contrast to competitor forms that print out with two taxpayers per page—then must be separated, collated, and placed in the correct window envelope.
TransForm64 software generates Form 8879 for the IRS as well as the individual states and municipalities where required. Preparers can choose a one-way self-mailer that carries Form 8879 to the taxpayer, or a two-way self-mailer that also provides an addressed return envelope. This allows the taxpayer to promptly return the executed document to the preparer's office.
The software even allows users to print the 1040 ES or 1040 V as a Certified Mail piece with an optional payment check and signature.
For 2016 TransForm64 versatility is being enhanced with the capability to print checks, invoices, statements, and certified forms in addition to tax forms—all on one single self-mailer through any laser or inkjet printer.
Said Nelson, "TransForm64 is the newest tax form innovation in years—and now offers unprecedented versatility to small businesses and accounting firms who can use a single, global form for multiple tasks such as invoicing and payments. For busy departments looking for ways to save money and improve efficiency, TransForm64 software and forms provide the ultimate solution."
Those interested in learning more about Laser Substrates' tax form self-mailers will find a demo video and ordering information at http://www.tax-form-self-mailers.com. All other Federal and State tax forms available on request.
***
About Laser Substrates, Inc.
Laser Substrates, Inc. is a high-tech business communications developer, combining the benefits of the latest computer capabilities with the need for hard-copy documents. The company manufactures all of its proprietary business forms in its modern plant in Boca Raton, Florida. For the last 53 years, Laser Substrates has been the market leader in developing more efficient and more convenient products to improve office procedures.
CONTACT:
Mark Nelson
Director of Operations
Laser Substrates, Inc
6251-C Park of Commerce Blvd
Boca Raton, FL 33487