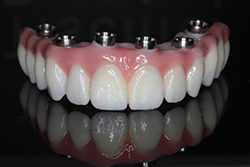 National Brand recognition in local markets drives patients to our member practices.
(PRWEB) August 29, 2016
The Teeth Tomorrow® Network proudly announces its partnership with Ellenbogen Creative Media – a proven leader in video production and television advertising for over 30 years. Ellenbogen will be producing the national media campaign promoting the Teeth Tomorrow® brand, and linking it to individual member practices within their respective protected geographic territories.
"The creative professionals at Ellenbogen convey the Teeth Tomorrow story to a national audience", says Dr. Michael Tischler, the network's founder and implant editor of Dentistry Today. "Our message is delivered to prospective patients across the country", Dr. Tischler continues, "adhering our brand to each practice in the network. Our mission is support every aspect of our members' implant practices, so they can spend less time managing the business, and devote more time to their patients."
Jeremy N. Ellenbogen leads a multi-disciplined production team that focuses on delivering the right message to the right audience by engaging content, story and imagery to create both brand recognition and market relevance. "We have fostered great relationships with both large corporations and small hometown family-run businesses", says Ellenbogen, "and we approach every project with the same creativity and passion."
"Teeth Tomorrow® provides our members with a proven process to grow practice revenue, while best serving patients", states Richard Stone, Director of Network Services. "Our unique clinical solution, backed by comprehensive lab support, is driven by the promotion of our national brand through media platforms that deliver pre-qualified patients. Each franchise territory has been defined using state-of-the-art market intelligence, and our global branding campaign delivers national reach with local results for Network Implant Dentists."
The Teeth Tomorrow® Network is the only National US dental franchise dedicated to full arch zirconia as the final product. Network membership is only granted to carefully selected practices committed to providing advanced dental implant reconstruction services, and is limited to 250 exclusive market territories.
ABOUT TEETH TOMORROW®:
The Teeth Tomorrow Network consists of advanced implant dentists delivering a proven full arch Prettau® zirconia solution to their patients. The network doctors utilize the established Teeth Tomorrow clinical, laboratory and marketing protocols, working together to share knowledge and further the success of the Teeth Tomorrow brand, setting the gold standard for top recognized dentists for full arch restoration. The network enables members to expand their advanced prosthetic and restoration practice through success-proven delivery protocols, inclusive doctor/staff training, an exclusive market within a designated territory, and customized national marketing and advertising support.
Network membership is only available to carefully selected Advanced Implant Dentists. Dental Implant Dentists interested in learning more about joining the Teeth Tomorrow® Network while prime territories remain available should visit teethtomorrow.com , send inquiries to info(at)teethtomorrow(dot)com or call the Network Support Team at 845-679-1280.
ABOUT ELLENBOGEN CREATIVE MEDIA:
Based in the state-of-the-art Seven21 Media Center in New York's Hudson Valley, Ellenbogen Creative Media produces award winning television ads, web and professional training videos, marketing materials, 3-D animation and motion graphics. They are comprised of a master team of production professionals, with the talent and expertise required to build brands, deliver information, and drive response. For more information, contact The Ellenbogen Group, at info(at)ellenbogen(dot)com or by calling 845.339.9600.