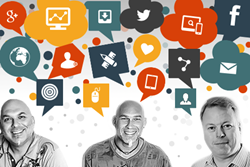 Over the years we have learnt that many of today's SME's do not have the internal knowledge or experience from both a strategic, tactical or practical perspective in order to leverage the potential inbound marketing presents. But, we're here to help.
London (PRWEB UK) 7 September 2016
Struto is an inbound marketing and growth-driven design (GDD) agency, based in London, UK. Born in 2011, Struto began with the simple goal of combining their love of business and technology to deliver a better kind of marketing. As outbound-focused marketing efforts deliver less and less return, Struto has found inbound marketing to be the best solution for businesses yearning to achieve better results. They are also praised as a Platinum HubSpot Partner, and are thrilled to be pioneering the Growth-Driven Design movement.
Founded by the same businessmen who took s2s Limited as a startup and exited as a Cisco gold partner, Struto's success is founded in transforming the way IT businesses market and sell themselves. Not only that, but it is managed by owners who fully understand the challenges that entrepreneurs face in the digital world. They particularly understand the fact that many small business owners wear many hats, from managing to marketing, sales, and support.
This October 2016, Struto is sharing their experience and knowledge through workshop sessions especially geared at their current clients, but also at B2B business owners who manage their own inbound marketing campaigns and are looking to accelerate their results.
The workshop will be presented by Struto's top experts, and will focus on providing key take-aways to business owners with regards to the difference that growth-driven design can make over a traditional web design approach; explain the success-generating principles of inbound marketing and latest trends; and highlight how to get the most out of a HubSpot portal. Managing-Director, Craig Wiltshire, well-known Cranfield business-school lecturer, Jonathan Wagstaffe, and GDD-expert and co-owner, Grant Wiltshire, will be drawing from client case studies and their own experience in building successful small businesses in the UK.
Interested business owners of B2B companies and HubSpot users in the Greater London area are invited to join the workshop via Struto's registration page.
About Struto:
Struto Ltd. is an in-house inbound marketing agency that specialises in helping B2B business owners in IT services, SaaS, and Software industries to grow their bottom-line through generation of high-quality leads. UK clients such as Prezi, BGP of Cranfield University and Skeleton Technologies are making optimal use of Struto's Platinum HubSpot partnership offers. The Struto marketing machine is comprised of a world-class team of developers, designers and inbound marketers that excel at delivering Growth-Driven Website Design and Performance-Driven Marketing Services. Follow Struto on Twitter, Facebook, and their inbound marketing blog.