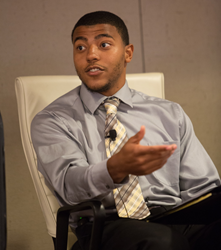 Sometimes you participate in a program and after the conclusion it's like 'What's next?' It wasn't like that at all with the Scholars program. It was 'How can we get you to the next point of success?'
(PRWEB) August 25, 2016
Five years ago, the Indiana CPA Society started the INCPAS Scholars program. This free year-long program encourages minority high school students to begin the path toward becoming a CPA by meeting CPAs, touring CPA firms and businesses that employ CPAs, and participating in workshops and other themed events throughout the year. And then keep that momentum going through the remainder of high school and college.
With programs in Central Indiana and the South Bend area, the INCPAS Scholars program aims to address the lack of diversity among CPAs by sparking a passion for accounting and finance early on. Although the program technically lasts one year, the emphasis on building mentor relationships between students and CPAs allows for Scholars who participate to have a network of support after completing the program.
This year is a monumental one for the program as one of its original INCPAS Scholars, Will Clinkscales, met all of the program's goals and has begun his professional career. He is the first Scholar alumnus to achieve that status. He has graduated from college with a degree in accounting and finance, recently started working for PwC, and plans to sit for the CPA Exam this month.
"We wanted to see Scholars graduate from high school," said INCPAS Director - Diversity & Outreach Ali Paul. "We wanted them to major in accounting and to stay involved with the Scholars program while they were in college. We wanted them to maintain their professional network they began building when they were high school students in the program. We wanted them to graduate from college. We hoped they would work in Indiana, and even better if employed by their mentor's firm - which Will is."
Clinkscales' story embodies everything the INCPAS Scholars program aspires to achieve. When he was in high school, he demonstrated a general interest in business, and his high school accounting teacher encouraged him to apply for the Scholars program. The program kicked off with a Welcome Dinner, which was an opportunity for the Scholars, their parents, the mentors and firm partners to get to know one another, learn about the program and what will be expected of each party. His assigned mentor had an unexpected work obligation, so he sat with a partner from his mentor's firm. He and the firm partner got to know one another over dinner, and the partner asked to be updated on Clinkscales' progress and vowed to keep in touch.
Soon Clinkscales was preparing to graduate from high school and enter IUPUI as an accounting and finance major. He worked hard to maintain the professional network he began creating as an INCPAS Scholar, which included keeping in touch with his mentor and the firm partner. As he progressed through college, he interned with his mentor's firm (twice) and prior to graduation was offered a full-time position in the firm's tax group. He is now working with the partner he met five years ago at the Scholars Welcome Dinner.
The lasting impact of the Scholars program can be seen in his decision to take the job with PWC.
"In the end, the partner that invested so much time in the Scholars program building great relationships and rapport helped influence my decision about where to work," said Clinkscales.
When asked how it felt to be the first Scholar to graduate and be employed by a public accounting firm, he stated, "It shows that all the time that was put into the Scholars program, and everybody that's given time and money toward it, is worth it and paying off. Sometimes you participate in a program and after the conclusion it's like 'What's next?' It wasn't like that at all with the Scholars program. It was 'How can we get you to the next point of success?' It was unbelievable the support and connections that continued through college and after."
During college, he continued giving back to the program by serving as a buddy to several Scholars and sharing his experiences as an accounting major. He's also returned to the Scholars Welcome Dinner to talk about the impact the Scholars program has had on his life and offer his tips on how to be a successful Scholar.
"Never forget how you got somewhere," he said this about his continued involvement with the Scholars. "Ali Paul is a big reason I'm here today - whenever she asks if I can make it to an event, it's a no-brainer. That's how much respect I have for the Scholars program, for her and all the individuals who help make it happen."
His continued support of the Scholars program demonstrates how it aims to create a pipeline of diversity by creating a constant cycle of former Scholars becoming role models and potential mentors to new Scholars. After passing his Exam, he has said participating in the program as a mentor is "non-negotiable."
"The ultimate goal of the INCPAS Scholars program is to increase diversity in the CPA profession," Paul said. "I'm so proud of Will and of all our Scholar alumni following a similar path. He has exceeded every expectation we've had for this program. Seeing him begin his professional career is unbelievably rewarding."
The Scholars program was the first of its kind in the CPA profession. During its six years of existence, it already has received numerious awards and serves as a model for similar programs in other state CPA societies.
###
About the Indiana CPA Society
Nearly 8,100 CPAs in public practice, business and industry, government and education are members of the Indiana CPA Society. INCPAS is the most trusted business resource and advocate in Indiana. Its members are required to abide by the CPA profession's code of conduct. INCPAS members also receive access to quality educational programs and peer networking for knowledge sharing. Society members are trusted advisors to Indiana's business community. INCPAS celebrated its 100th anniversary in 2015. For more information, visit incpas.org.