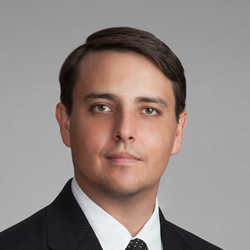 THE WOODLANDS, Texas (PRWEB) August 23, 2016
Steptoe & Johnson PLLC is pleased to announce that Daniel Nossa has joined the firm's office in The Woodlands, Texas. Nossa's practice will focus on business as well as corporate and transactional law.
Daniel NossaNossa is an experienced advisor for entities in various industries including banks, funds, commodity trading companies, retail electric providers, exploration and production companies, pension plans, and endowments. He works side by side with clients to guide them through matters including mergers and acquisitions, credit facilities, derivatives, and commodity trading. He also advises clients in Commodity Exchange Act and Dodd-Frank compliance.
"With Dan's addition, Steptoe & Johnson will be able to offer an expanded array of services to clients in the Houston area," said firm CEO Susan S. Brewer. "Dan will be an asset for many of our clients as his experience covers multiple industries with a diverse set of needs."
Nossa earned his law degree from Stanford Law School and his Bachelor's degree from Princeton University.
About Steptoe & Johnson
Steptoe & Johnson PLLC is a U.S. law firm with more than 300 attorneys and core strengths in energy, business, employment, and litigation. Steptoe & Johnson operates 14 offices in six states including Colorado, Kentucky, Ohio, Pennsylvania, Texas, and West Virginia. Visit http://www.steptoe-johnson.com and connect with us on Twitter and LinkedIn.
For more information, contact Betsy Spellman, Chief Marketing Officer, at (304) 933-8000 or by email: press(at)steptoe-johnson(dot)com.