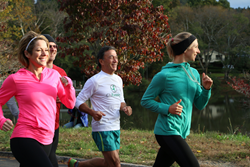 Teaching ChiRunning is always about meeting the most beautiful souls, many of whom have become dearest friends over the years! It is incredibly rewarding to share the knowledge, knowing that it can change lives. - Angela James, Master Instructor
Asheville, NC (PRWEB) August 30, 2016
Help individuals and organizations take charge of their health. Teaching ChiRunning® and ChiWalking® gives you the tools to empower yourself and others through mindful, injury-free fitness. ChiRunning and ChiWalking have over 200 Certified Instructors worldwide.
ChiRunning is a revolutionary approach to effortless, injury-free running with almost 500,000 books sold and over 200 Instructors in 20 countries. ChiRunning has helped hundreds of thousands of people run with less injury and more joy. Based on principles of the ancient martial art T'ai Chi, ChiRunning makes running a mindful practice as well as a lifelong fitness program.
Certified Instructors enjoy many benefits including the ability to teach individuals and groups the ChiRunning and ChiWalking techniques, participation in ChiLiving blogs, social media, bulletin boards, and articles, and the opportunity to earn money doing what they love. The ChiRunning® and ChiWalking® Instructor Training is a wonderful business opportunity. When you become Certified in ChiRunning® you will also become Certified in ChiWalking® and the ChiWalk-Run technique.
Danny Dreyer's Instructor Training will commence on January 16th, 2017, beginning with a 3-month home study program and culminating in a 4-day training in Asheville, NC on April 6-9, 2017.
If you are unable to attend the Asheville Instructor Training, you can reach out to one of our Master Instructors near you and request a private training:
Angela James, Vancouver, Canada
Cheryl Lloyd, Reno, Nevada
Dick Felton, Sarnia, Ontario, Canada
Jeff Carnivale, Dallas, Texas
Joel Matalon, New York, New York
Kari Wilkinson, Haw Creek, North Carolina
Laura Houston, Seattle, Washington
Lisa Pozzoni, Phoenix, Arizona
Vince Vaccaro, Freedom, New Hampshire
Aracely Areas, San Jose, California
To sign up for Danny's Instructor Training, or contact one of the Master Instructors for a private training, visit ChiRunning.com and click the Teach It link on the left hand sidebar.