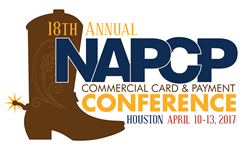 It was a great conference and I am glad I presented. It was definitely outside of my comfort zone, but it was also growth for me! —2016 Conference speaker
Minnetonka, MN (PRWEB) August 24, 2016
The NAPCP is looking for dynamic presenters to lead sessions at the 2017 Commercial Card and Payment Annual Conference (April 10-13, 2017, Houston, Texas) on best practices and thought-provoking ideas—all with a focus on reaching new levels of performance in the Commercial Card and Payment industry. Speaking at the NAPCP Annual Conference is a great opportunity for Commercial Card and Payment professionals, with benefits including:

demonstrating to your organization that you are a professional recognized by your peers
creating valuable and lasting professional contacts
complimentary conference registration
The NAPCP's Annual Commercial Card and Payment Conference is the can't-miss event for industry professionals. Houston, Texas, will host the 2017 conference, which will feature four days of educational sessions, informative exhibits and demos, and great networking opportunities.
The NAPCP is a membership-based professional association committed to advancing Commercial Card and Payment professionals and industry practices worldwide. Serving a community of almost 15,000, the NAPCP is a respected voice in the industry, serving as an impartial resource for members at all experience levels in the public and private sectors. The NAPCP provides unmatched opportunities for continuing education and peer networking through its conferences, Regional Forums, webinars, website, virtual demonstrations, newsletters and regular communication. The association sponsors research and publishes timely and relevant white papers, survey results and other documents. The NAPCP offers a Certified Purchasing Card Professional (CPCP) credential.
Member benefits include full access to the NAPCP Resource Center, eNetworking tools, Career Center and regular e-newsletters. Members also receive event discounts and invitations to members-only events. The NAPCP also offers complimentary subscriber status, which provides visitors to our web site limited access to our rich content and resources.