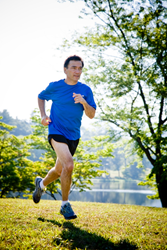 Chi Running has saved my running life! Thank you! Thank you! Thank you! - Deena Rocco
Asheville, NC (PRWEB) September 06, 2016
Launching this October, ChiRunning School 2.0 is based on the success of the original ChiRunning School, which brings ChiRunning audio and video Lessons direct to your inbox.
The book, ChiRunning, A Revolutionary Approach to Effortless, Injury-free Running (Fireside 2004,2009) is brought to life in the updated School which offers several levels of membership, each including expanded digital content and engagement with Danny Dreyer, founder of ChiRunning, as well as continuing to offer weekly Lessons delivered to your email inbox.
Experience the fresh approach to running that thousands have discovered. Countless testimonials agree that running is made easier, faster and more enjoyable. Your recovery is reduced dramatically, even after long distance runs.
The new ChiRunning School 2.0 delivers this revolutionary technique in an online format for students everywhere. The goal of the ChiRunning School is to offer you the best "running toolkit" we've ever offered, so that you can experience what most runners only dream about… a lifetime of joyful, powerful, injury-free running.
ChiRunning School Member Benefits Include:
-Weekly video lessons
-Audio downloads with each lesson
-Monthly webinar and live Q&A with Danny
-ChiRunning School community forum
-Special offers and discounts
Weekly video lessons target one aspect of the ChiRunning and ChiWalk-Run techniques, going deeper than ever with Danny's most updated ideas and insights. Then, take Danny on the run with you with an audio companion for each lesson. He'll remind you, every step of the way, where to focus your mind and what to feel for in your body. The one-two punch of the video lesson and audio companion makes your learning faster, easier and a lot more fun.
To learn more about Danny Dreyer and the ChiRunning School, visit ChiRunning.com.