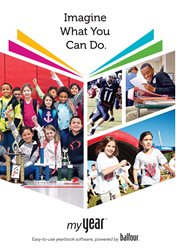 "This industry first, HTML5 software gives schools access to yearbook planning, design and sales tools all in one place." -Mark Goshgarian, General Manager of Publishing & Digital
Austin, TX (PRWEB) September 08, 2016
As schools across the nation open their doors to new students, Balfour welcomes myYear, the first-to-market HTML5 yearbook design software, to its suite of products. myYear allows anyone to create beautiful, custom yearbooks with ease.
Designed and built by leading industry experts, myYear works hard so students and teachers won't have to. For veteran and rookie yearbook staff members alike, myYear evens the playing field, giving users the tools to create a professional-looking yearbook everyone can be proud of.
With Chromebook-native support and cloud-based technology, myYear provides yearbook staffs the flexibility—and security—to work from anywhere, allowing creativity to happen at school, at home or at a favorite coffee shop. The responsive design also works on any device. Along with easy access, myYear provides best-in-class security and privacy of student information.
Unlike other solutions available in the market, myYear stands out as a plugin-free, non-Flash application. myYear is the industry's only true HTML5 cloud-based software. This gives parents and district technology administrators alike the peace of mind that sensitive student data and photos will not be left open to the vulnerabilities that plague other software.
"myYear was designed to be used anytime, anywhere," Mark Goshgarian, General Manager of Publishing & Digital said. "This industry first, HTML5 software gives schools access to yearbook planning, design and sales tools all in one place."
Balfour has placed simple, intuitive software at the fingertips of yearbook coordinators, complete with a full customer support team to help navigate the process. By providing clients with hundreds of drag-and-drop templates, an extensive library of fonts, backgrounds and clip art, plus a collection of professionally designed graphic packages, cutting-edge myYear is like having an entire yearbook staff on your computer.
In addition to providing a suite of design assets, Balfour has made populating portrait templates easier than ever. After planning portrait layouts, myYear's portrait flow technology magically fills in selected templates with student names and corresponding photos. It is also connected with ImageShare, Balfour's crowd-sourcing photo app that allows students, parents and staff to submit images for inclusion in the yearbook.
"It's an exciting time at Balfour," Goshgarian said. "Innovating our software to make our customer experience best in class, is one of our highest priorities."
As an industry leader with over 100 years of experience helping schools and universities preserve memories and achievements, Balfour has made it easy to graduate to a better yearbook – with myYear. For a demonstration or more information, contact a local Balfour Yearbooks representative or visit http://www.balfour.com/myyear/.
myYear is part of Balfour's leading suite of productivity & community solutions for yearbook teams. To learn more Balfour's yearbook other technology solutions:

About Balfour
Balfour is a premier provider of school spirit and recognition products for students, military personnel and professional sports teams nationwide. Headquartered in Austin, Texas, Balfour has sold yearbooks, class rings, graduation products, varsity letter jackets, athletic championship (professional and amateur), military products, and affinity jewelry for more than 100 years. Balfour is owned by Commemorative Brands Inc., a company of American Achievement Corporation (AAC). AAC is a portfolio company of Fenway Partners.
About Fenway Partners
Fenway Partners is a middle market private equity firm based in New York with approximately $1.6 billion under management. Fenway invests in profitable businesses with significant upside potential. Fenway companies typically have leading franchises and operate in two core industry segments: branded consumer products and transportation/logistics.