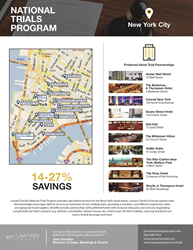 We've consolidated all of the knowledge we've gained through planning law firm trials travel for over thirty years and we've partnered that management know-how with the best properties to serve this unique niche
New York, NY (PRWEB) August 24, 2016
Lawyers Travel Meetings & Events, a division of Lawyers Travel, the 5th largest corporate travel management company by sales volume in the U.S. as ranked by Business Travel News, launched its one-of-a-kind National Trials Program earlier this year at the Association of Legal Administrators (ALA) 2016 Conference. Unlike anything else on the market, the National Trials Program focuses on law firms' trials travel needs. Since its May launch, additional hotel properties in 10 major cities have been added to the National Trials Program roster, with more in the pipeline for 2017.
Each of the exclusive preferred hotel properties in the National Trials Program have extensive experience with trials travel needs and understand the intricacies of trials business. Featured properties in the National Trials Program include: Loews Atlanta Hotel; InterContinental Boston; The Gray, a Kimpton Hotel in Chicago; Hyatt Regency Dallas; Omni LA at California Plaza in Los Angeles; Mandarin Oriental, Miami; Conrad New York; The Ritz-Carlton, Philadelphia; CLIFT in San Francisco; and The Hay-Adams in Washington, D.C.
For more information on Lawyers Travel's National Trials Program, please visit: http://www.lawyerstravel.com/trials.
"With the National Trials Program we've consolidated all of the knowledge we've gained through planning law firm trials travel for over thirty years and we've partnered that management know-how with the best properties to serve this unique niche," said Jenn Smukler, Director of Sales, Meetings & Events at Lawyers Travel. "In doing so, Lawyers Travel has created something brand new for law firm clients that's going to streamline the complexities of trials travel for law firms and save them time and money. The early and expected growth of this program is due to the fact that it's resonating with law firms and hotel properties. Law firms today are watching the bottom-line costs of trials; poorly negotiated contracts can result in penalties ranging from $10,000 to $80,000. The National Trials Program helps law firms avoid these issues; through our strategic hotel partnerships and trial management expertise, our program helps clients save up to 27%."
Some unique benefits of the program include: discounted rates at hotels in close proximity to courthouses with high trial volume including: Atlanta, Boston, Chicago, Dallas, Los Angeles, Miami, New York, Philadelphia, San Francisco and Washington, D.C.; partnerships with hotels in smaller markets nationwide in order to support firms that may be conducting trials in more remote locations; negotiating complex trial contracts (e.g. attrition, cancellation, rebook clauses, etc.); sourcing functional war rooms; negotiating food and beverage; capturing and reporting on client/matter numbers and more.
About Lawyers Travel Meetings & Events
Lawyers Travel offers comprehensive travel solutions for over 200 of the world's leading law firms including 40 of the AM Law 100. Our experienced consultants offer unparalleled support in more than 50 locations throughout the United States, and in 110 countries globally, ensuring in-country service excellence for multinational corporate clients.
Lawyers Travel's in-house Meetings & Events division provides highly customized, cost-effective Meetings & Events management services. Having managed over 1,000 Meetings & Events successfully, our team optimizes savings, improves service, increases control, enriches attendee experiences and assists in reaching clients' unique strategic objectives. From partner retreats to firm dinners, trial preparation and conferences, the services provided by Lawyers Travel's Meetings & Events division are designed to maximize cost savings by leveraging partnerships and consolidating service offerings. For more information on our trial related travel services, please visit: http://www.lawyerstravel.com/trials.