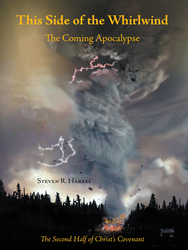 I've always felt called to deliver God's message.
Tuscon, AZ (PRWEB) August 29, 2016
Many have claimed to have received a message from God about the end of the world. There have been countless predictions, studies and books about the "Rapture," "Second Coming of Christ" and the end of the world.
Steven R. Harrel claims to have received a divine revelation, which he said was "sealed since the time of the prophet, Daniel; a revelation which can only be revealed in these last days." Harrel's book, "This Side of the Whirlwind: The Coming Apocolypse," is a doctrinal study, he believes is crucial to understanding God's plan for the "End of Days," revealing the previously unknown "Separation" and "Judgment" portions of the "Great Consummation," or the "second half of Christ's covenant."
"This book is unique, among 'End Times' books and messages," Harrel said. "Much of the book's message has never before been released to the world. Through biblical support and spiritual continuity, 'This Side of the Whirlwind' aims to prove that the world is nearing the end of the 'Latter Days,' and confirm that much of what was predicted about a coming apocalypse was mistaken."
Harrel, a self-proclaimed "prophet of God," believes that the world is heading for not one, but two apocalypses and claims to provide previously hidden biblical facts in his book, which support his prophecy.
"Even as a small child, I knew I was chosen by God to minister," Harrel said. "I've always felt called to deliver God's message."
For more information, visit: https://thissideofthewhirlwind.wordpress.com/ or http://thissideofthewhirlwind.com/.
This Side of the Whirlwind
By Steven R. Harrel
ISBN: 978-1-5127-3406-5
Available in softcover, e-book
Available on Amazon, Barnes & Noble and WestBow Press
About the author
Steven R. Harrel is a Christian singer/songwriter/musician and blogger. He was a sergeant in the U.S. Army from 1976-1983. He married his childhood sweetheart and lives in Tucson, Ariz.
# # #
**FOR IMMEDIATE RELEASE**
For review copies or interview requests, contact:
Lindsey Gobel
317.435.2116
lgobel(at)bohlsengroup(dot)com