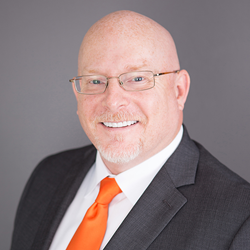 Barry's comprehensive experience and knowledge informs his ability to manage the complexities of HIPAA compliance and data security
Knoxville, TN (PRWEB) August 24, 2016
PYA, a national healthcare management advisory and accounting firm, has announced that Barry Mathis is the latest Principal to join its executive team.
With more than two decades of experience in both the information technology (IT) and healthcare industries as a CIO, CTO, Senior IT Audit Manager, Compliance Officer, and Consultant, Mathis has performed and managed complicated HIPAA security reviews and audits for countless hospital systems. Prior to joining PYA, he served as Principal at an IT consulting firm.
"Barry's comprehensive experience and knowledge informs his ability to manage the complexities of HIPAA compliance and data security," said PYA President Marty Brown. "He exhibits strong technical skills and proficiency in IT risk management, physician relations, strategic development, and team building. He will be an extraordinary asset to our healthcare clients."
Mathis has provided consulting services to more than 100 hospitals and is experienced in conducting IT due diligence and performing HIPAA security risk assessments. Innovative and results-oriented, he has proven expertise in planning, developing, and implementing IT solutions while minimizing risk or exposure.
"I am passionate about project and crisis management, trouble shooting, and problem solving. In my new role at PYA, I look forward to applying these skills to the challenges our clients are facing," said Mathis. "PYA has provided, and will continue to provide, clients with exemplary service. I look forward to contributing to that legacy."
Mathis served in the United States Marine Corps and is an honor graduate of its Computer Science School. During his service, he was a software developer and section leader of V.I.P. Command & Controls responsible for the day-to-day function of Quality Control.
Mathis has authored multiple publications on a variety of IT-related topics, including hospital information systems, electronic health records, and computerized physician order entry. With more than 15 years' experience as a speaker, Mathis has presented on a diverse range of topics, including IT healthcare management, cyber security, and emerging technology in healthcare. He also is actively involved as a twenty-year volunteer with the American Cancer Society.
About PYA
For over three decades, PYA (Pershing Yoakley & Associates, P.C.), a national professional services firm providing management consulting and accounting, has helped its clients navigate and derive value amid complex challenges related to regulatory compliance, mergers and acquisitions, governance, business valuations and fair market value assessments, multi-unit business and clinical integrations, best practices, tax and assurance, business analysis, and operations optimization.
PYA's steadfast commitment to an unwavering client-centric culture has served the firm's clients well. PYA is now ranked by Modern Healthcare as the 9th largest privately owned healthcare consulting firm in the US. PYA is also ranked 91st by INSIDE Public Accounting's "Top 100" Largest Accounting Firms. PYA affiliate companies offer clients world-class data analytics, professional real estate development and advisory resources, comprehensive claims audits for self-insured Fortune 500 companies, wealth management and retirement plan administration, and business transitions consulting.
PYA assists clients in all 50 states from offices in Atlanta, Kansas City, Knoxville, Nashville, and Tampa. For more information, please visit http://www.pyapc.com.