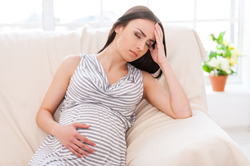 " What we have developed with our patented nose-clip is truly a blend of traditional and complimentary wellness approaches.This is the beginning of a true synergism between Eastern and Western approaches to health and wellness." Dr. R. Hunt
Charlotte, North Carolina (PRWEB) August 25, 2016
Balanced Health Plus® announced today that their product AROMAID® Soothe is now available with newly designed packaging especially for the expectant mother. With approximately 70% of pregnant women suffering from some kind of morning sickness and many hesitant to take medications moms-to-be have been looking for a natural way to ease symptoms.
After years of research and testing the wellness team of Balanced Health Plus® have released AROMAID® Soothe. The product is a simple aromatherapy infused nasal clip containing a unique, tried and tested blend of essential oils that includes ginger, cardamom, peppermint and spearmint.
"What we have developed with our patented nose-clip is truly a blend of traditional and complementary wellness approaches. As mainstream medicine acknowledges more and more the benefits of aromatherapy I think we'll find in certain instances it is a useful adjunct or alternative to traditional approaches. This is the beginning of a true synergism between Eastern and Western approaches to health and wellness." - Dr. R. Hunt, CEO Balanced Health Plus®
The aromatherapy nasal clip fits comfortably into either nostril and the mom-to-be can go about her business hands free while gently inhaling the soothing scents. AROMAID® Soothe is ready to use right out of the packet. There is no mixing, diffusing or handling of the essential oils necessary and only the person who can smell the scent is the pregnant woman. AROMAID® Soothe is available in specifically designed packaging and available in select pharmacies and online at http://www.aromaid.net.
Other AROMAID® blends include AROMAID® Calm, AROMAID® Relax, AROMAID® Immune Defense and AROMAID® Ease. Each clip contains a unique blend of essential oils designed for a specific purpose. Calm encourages deep relaxation and peace, especially before sleep and Relax offers a choice of four blends to quiet the mind and body and help users unwind from the stresses of everyday life. Soon to be launched are Ease and Immune Defense. Ease can be used by headache sufferers and Immune Defense is for flu season and is intended to defend the immune system during cold and flu season and when traveling.
FOR MORE INFORMATION ABOUT AROMAID® please go to http://www.balancedhealthplus.com or http://www.aromaid.net.
Check us out on Facebook
Follow us on Twitter
ABOUT BALANCED HEALTH PLUS ®
Balanced Health Plus is committed to designing, developing, and marketing quality products that blend Eastern and Western holistic approaches to Aromatherapy for mind/body balance. Its patented cosmetic nasal clip provides a comfortable, hands-free way of inhaling selected relaxing scents without exposing the user to direct contact with the oil or others to the aroma.
We believe that integrating both Western scientific approaches and Eastern traditional practices, offers the most holistic path for reducing stress of and pressure on the body and mind. Our interest in and study of these approaches has brought us to Aromatherapy. For us, Aromatherapy is an integrative approach to enhancing the feeling of wellbeing and managing the inevitable stresses of life. From that beginning, we have used knowledge of Eastern traditions to develop blends of specific natural essential oils used for centuries in ancient and modern civilizations. And, to that platform, we have added Western scientific knowledge to develop and patent a unique delivery system for convenient and effective use of these aromatherapy blends.
BALANCED HEALTH Plus® was founded by an anesthesiologist and a psychologist who discovered that, while medicine and psychology seemed to have common goals, they often appeared to work at cross-purposes.
In conversation, our founders discovered that they both had been using cognitive behavioral approaches and positive psychology and surgical procedures to address a wide range of physical and psychological responses to stress, anxiety, and mind/body balance concerns. Their shared interest in and passion for finding non-invasive, non-pharmaceutical ways to help people cope with stress and anxiety and work towards a better mind/body balance has evolved into this innovative company.
Together, they began to innovate approaches to various conditions associated with stress, anxiety, and fear. And from that work, BALANCED HEALTH Plus® has grown to develop integrative approaches to creating and maintaining mind/body balance in an inherently stressful world.