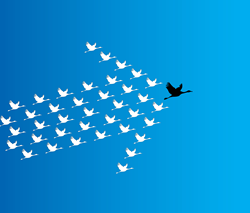 The best leadership tool is a mirror. -Terry McKenna
Kure Beach, NV (PRWEB) September 01, 2016
Not only is America looking for new leadership this election year, leadership also continues to be a killer concern in C-suites worldwide. According to the 2016 Delotte Global Human Capital Trends report, 89% of companies see leadership as a critical issue. Without strong leadership, companies are unable to effectively execute their strategies, underperform their potential, and produce unacceptable financial results.
The current leadership development approach is not delivering what is required in today's fast-paced, continuously evolving world. Organizations must identify potential leaders much earlier in their careers and accelerate their development through the leadership ranks. Failure to do so will continue to result in high employee turnover, un-engaged employees, dissatisfied customers, and frustrated owners/CEO's.
To develop leaders at all levels, regardless of education level, from store manager through owner/CEO, three new leadership development mini-books (40-80 pages) have been released: "What Great Leaders Do", "How to Become a High-Performance Organization", and, "Customer Service – The Ultimate Differentiator."
These how-to books are quick reads, easy to comprehend, and packed with actionable insights and daily tactics. These leadership books can be used three ways:
1. These books can provide follow-up support to existing leadership development programs.
2. If organizations don't have a leadership training program, these books can be the training program.
3. These books can act as on-the-job coaching handbooks.
These mini-books are priced so that everyone in the organization can have a personal copy—a small investment to maximize ROI on an organization's largest investment: labor. These mini-books provide organizations the peace of mind and confidence that their leaders are prepared to perform. In today's hyper competitive market, it's Perform or Perish!
Order a set today for only $29.85 at http://www.terrymckennabooks.com.
###
Company: Terry McKenna is Principal and co-founder of Employee Performance Strategies, Inc., (EPS), a leadership development and organizational design consulting firm. EPS helps retail organizations maximize their financial results by maximizing the job performance of their workforces. For more information about this topic, please visit: http://www.terrymckennabooks.com.