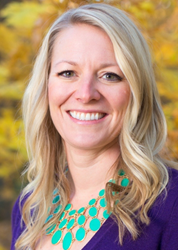 Mount Horeb, WI (PRWEB) August 23, 2016
Dr. Angela Cotey, a respected dentist who provides Invisalign® near Madison, WI, now welcomes new patients to visit her office in Mount Horeb with or without referrals to receive these innovative invisible braces. With Invisalign®, Dr. Cotey can offer patients a more discreet, comfortable and convenient form of orthodontic treatment. This system also promises a variety of health benefits for patients.
With a patient-centric philosophy, Dr. Cotey is committed to making the most cutting-edge care available to her patients, and she is proud to offer Invisalign® as an alternative to traditional orthodontic treatments. Invisalign® aligners can effectively correct various tooth or bite alignment issues, including overbite, underbite, crowding and gapping. These invisible braces are also comparable to other orthodontic treatments in terms of cost and treatment time. However, since Invisalign® aligners are clear and removable, they offer a number of unique advantages.
Dr. Cotey may encourage patients to consider receiving Invisalign® in Madison, WI, in light of the conveniences and health gains that this system provides. The plastic aligners cause minimal irritation to nearby tissue, making Invisalign® a comfortable option for patients. The aligners also can be removed for eating, brushing and flossing, enabling patients to continue their regular oral hygiene routines and maintain strong oral health. Many people additionally appreciate the subtle nature of Invisalign®, which can help patients enjoy greater self-esteem throughout the course of their treatment.
Dr. Cotey urges patients who want to learn more about these invisible braces to visit her website at http://www.villagesmilecare.com. To schedule consultations about receiving Invisalign® in Madison, WI, patients can visit the website or directly call Dr. Cotey's office today at (608) 433-2102.
About the Doctor
Dr. Angela Cotey is a general dentist offering personalized dental care to patients in Mount Horeb, WI. Dr. Cotey and her entire team take pride in offering the latest advancements in dentistry and dental technology to ensure each patient enjoys a comfortable experience with long-lasting results. Dr. Cotey combines advanced dentistry with a fun and friendly style. She is a member of numerous professional organizations including the American Dental Association, the Wisconsin Dental Association, American Academy of Cosmetic Dentistry, Fellow in the Academy of General Dentistry and current President of the Wisconsin Dental Study Club and Madison Dental Progress Forum. To learn more about Dr. Cotey or the services she offers, please visit her website at http://www.villagesmilecare.com or call (608) 433-2102 to schedule an appointment.