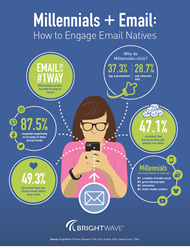 Atlanta, GA (PRWEB) August 24, 2016
BrightWave released findings today based on extensive original research about Millennials and email, helping marketers make sense of a huge, important demographic, as well as providing actionable insights for creating engaging email campaigns that speak to the generation.
The white paper, titled "Millennials + Email: How to Engage Email Natives," found that Millennials prefer that brands they like communicate with them via email, point blank. The paper outlines why this is—and gives clear direction in terms of program cadence, frequency, creative and testing for those looking to active a huge part of their list. A few notable findings:

They prefer email over other channels: Email was the preferred method of contact with brands millennials do business with or like, beating out social media, SMS, phone calls and more.
Millennials don't want to share emails: Only 8.7% say they'll share engaging content.
You're emailing them too much: 47.1% say they unsubscribe because they receive emails too often
It is available for download here: http://www.brightwave.com/resource/millennials-email-engage-email-natives/
The survey of more than 1,500 people between the ages of 18 to 34, also found that Millennials expect great, personalized content—and that they expect it to look great on every screen. Five actionable takeaways help marketers make sense of the wealth of data uncovered in the research.
"It's validation to see that some of our feeling and assumptions about what works with Millennials were proven correct," said Laura Sullivan, Creative Director at BrightWave and author of the white paper. "It's also nice to see some surprises in the research that make us turn traditional wisdom on its head."
An infographic, also released today, provides a quick snapshot of the findings and teases the more detailed insights in the white paper. Get a closer look at the infographic here:
http://www.brightwave.com/millennials-email-infographic/
BrightWave is partnering with some top minds in the email world, including John Thies from Email on Acid, Jordan Cohen from Fluent and Kaila Garrison of Oracle, to host a webinar on October 26. The talk will be a chance to test the findings against others research in the field and have a larger discussion about Millennials and email. Sign up for the webinar here: http://www.brightwave.com/mwebinar
About the research
The research, which had statistically significant results, polled over 1,500 people between the ages of 18 and 34, with the results weighted by gender and region.
About BrightWave
BrightWave is North America's leading email marketing agency. The award-winning firm specializes in elevating email marketing and eCRM programs that drive revenue, cut costs and build relationships.
Headquartered in Atlanta, GA, BrightWave works with a blue chip client roster, including Aflac, Chick-fil-A, Equifax, MattressFirm, Mizuno and Phillips 66. For more information, please visit http://www.BrightWave.com.