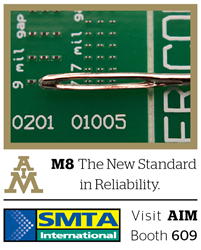 Cranston, RI USA (PRWEB) August 24, 2016
AIM Solder, a leading global manufacturer of solder assembly materials for the electronics industry, will highlight their innovative M8 No Clean Solder Paste along with their full line of solder assembly materials at the SMTA International 2016 trade show, scheduled to take place on September 27th – September 28th, 2016 at the Donald Stephens Convention Center in Rosemont, Illinois. AIM will be located in booth 609.
M8 No Clean Solder Paste has been formulated to improve production yields and product quality, whether printing 0.50 area ratios or eliminating voiding on QFN and LED packages. M8's post-reflow residue passes all IPC, BONO and tough changing environment test specifications, making it the ideal choice for automotive and high performance/high reliability applications.
Additionally, AIM's Technical Marketing Manager, Timothy O'Neill, will be presenting at SMTA International's technical conference, on September 27th at 2:00 PM. O'Neill's presentation, "Evaluating the Impact of Solder Alloy Powder Size and Stencil Foil Mounting Tension on Overall Print Quality of Miniaturized Devices," explores the use of Type 4 and Type 5 solder paste powders on non-coated stencil foils at standard and high mounting tensions, and compares release, repeatability and print definition characteristics.
To discover all of AIM's products and services, visit the company in booth number 609 at SMTA International.
About AIM
Headquartered in Montreal, Canada, AIM Solder is a leading global manufacturer of assembly materials for the electronics industry with manufacturing, distribution and support facilities located throughout the world. AIM produces advanced solder products such as solder paste, liquid flux, cored wire, bar solder, epoxies, lead-free and halogen-free solder products, preforms, and specialty alloys such as indium and gold for a broad range of industries. A recipient of many prestigious SMT industry awards, AIM is strongly committed to innovative research and development of product and process improvement as well as providing customers with superior technical support, service and training. For more information about AIM, visit http://www.aimsolder.com.
Upcoming Events:
October 5-6, 2016 – SMTA Guadalajara – Guadalajara, Mexico
October 19, 2016 – SMTA Long Island – Islandia, NY