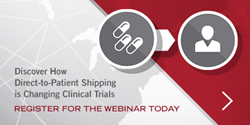 Malvern, PA (PRWEB) August 24, 2016
CSM, a leading provider of clinical trial supply services, will conduct an upcoming webinar, "Discover How Direct-to-Patient Shipping is Changing Clinical Trials." This webinar, hosted by FierceMarkets, will explore how sponsor companies and CROs are adopting direct-to-patient supply chain strategies to reach and treat patients in new, innovative, and effective ways. This presentation is free to the public and will take place on Wednesday, September 28th, 2:00PM Eastern.
The webinar will cover a comprehensive case study where multiple providers worked together on designing and implementing a direct-to-patient distribution strategy for complex clinical trials. Participants will learn how to strategically design direct-to-patient trials, reach wider patient populations, perform complex clinical trials, and increase patient enrollment and retention rates. Visit this registration page for important information regarding the webinar: http://bit.ly/2b9YuuS
Moderating the session is Eric Sagonowsky, Associate Editor on the FierceMarkets Life Sciences team. Speaking on the topic of supply chain strategy and logistics planning is Bob Albanese, Senior Vice President of Strategic Development of CSM. Hailee Hunt-Hawkins, Study Coordinator at Vanderbilt Kennedy Center, will discuss the clinical site's challenges faced as well as patient benefits.
Webinar: Discover How Direct-to-Patient Shipping is Changing Clinical Trials
Speakers:

Bob Albanese, Senior VP of Strategic Development, CSM
Hailee Hunt-Hawkins, Study Coordinator, Vanderbilt Kennedy Center
Who Should Attend:

Clinical Operations
Clinical Supply Chain and Logistics
Primary Investigators
Clinical Trial Coordinators
Chief Executive Officers
Date: Wednesday, September 28, 2016
Time: 2:00PM Eastern
Register Now: http://bit.ly/2b9YuuS
About CSM
CSM provides packaging, storage, and distribution services with quality-driven processes to enhance biotechnology and pharmaceutical clinical trials worldwide. The company has continued to evolve with its blend of unique and traditional clinical trial services that improve efficiency and accuracy.
CSM is the innovator of On-Demand Packaging and Labeling services, an industry breakthrough in which clinical supplies are made specifically for, and immediately prior to, each shipment. Some of CSM's other core services include: traditional packaging and labeling, cold chain logistics, controlled drug services, returns and reconciliation, clinical label printing, and global distribution. For more information, visit http://www.csmondemand.com.
About Vanderbilt Kennedy Center
The Vanderbilt Kennedy Center supports and applies research to improve the lives of people with developmental disabilities through services and education. It is an interdisciplinary research, training, diagnosis, and treatment institute that brings together scientists and practitioners in behavior, education, genetics, and neuroscience to work together in unique ways to solve the mysteries of development and learning.
The Vanderbilt Kennedy Center's mission is to facilitate discoveries and best practices that make positive differences in the lives of persons with developmental disabilities and their families. To learn more, visit http://vkc.mc.vanderbilt.edu/vkc/