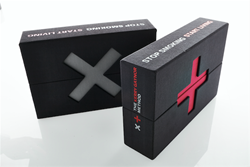 While using e-cigarettes or "vaping" has been largely promoted as an effective and healthy method for quitting, studies have been countering that for years.
Los Angeles, CA (PRWEB) August 25, 2016
Tobacco alternative, such as electronic cigarettes, have gone largely unregulated by the U.S. Food and Drug Administration, allowing businesses to sell them to minors – until now. On August 8, FDA rolled out new regulations on tobacco alternatives that included banning sales to minors and forbidding e-cigarette manufacturers to advertise their devices as healthy substitutes for smoking. Moreover, it required all e-cigarette companies to submit their current and future products for review and evaluation.
FDA's decision is not an unexpected move. While using e-cigarettes or "vaping" has been largely promoted as an effective and healthy method for quitting, studies have been countering that for years. Researchers have found that the liquid in e-cigarettes releases particles – aldehydes and ultrafine particles – mainly known for causing lung inflammation. Recent analysis of e-liquids has also shown that the chemical compositions of the vape mixture can lead to the emission of thirty-one toxic compounds. Whereas some may view the harmful effects of e-cigarettes as a price to pay in exchange for quitting, clinical findings have revealed small correlation between quitting and vaping. In fact, most vape users were actually dual users of e-cigarettes and tobacco.
Although there are substances in e-liquids that are FDA-approved, the way e-cigarette users consume those substances can affect their lungs adversely. Diacetyl – a compound found in 39 out of 51 e-liquid flavors – can cause bronchiolitis obliterans or "popcorn lung." This pulmonary illness is irreversible and can permanently damage the tiny air sacs in the lungs, causing chronic coughs and shortness of breath. Diacetyl is mostly known for providing the buttery flavor for popcorns and while it is safe to eat, it is hazardous to inhale.
Americans can quit smoking without depending on harmful substances with techniques such as the Kerry Gaynor Method, which boast with 85% success rate. This therapy-based program does not provide a substitute, but targets in removing the dependency on tobacco completely. For more than 33 years, the Kerry Gaynor Method has helped 10,000 people to quit smoking without relying on any chemicals.
For those who want to take the extra mile in detoxifying their lungs, the Kerry Gaynor's Vital Lung Detox provides the pulmonary cleanse they need to loosen all the chemicals and toxics that have built deep inside their lungs from years of smoking and vaping. The plant-based formula was developed to relieve problems in areas including nose, throat, liver, kidneys and lymphatic systems.
FDA's decision show that tobacco alternatives like e-cigarettes should not be seen as healthy substitutes for smoking, but as a different activity on its own that requires more research to gauge its health effects. For people who genuinely want to quit smoking, finding alternatives won't solve the problem –breaking the addiction is the solution.