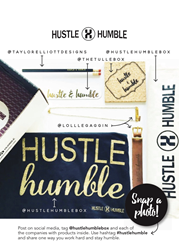 (PRWEB) August 25, 2016
Open up one's dreams and look inside for the guidance to succeed.
Getting a business started can be daunting, but Hustle Humble shines a light on the path to success. For anyone ready to take charge of their destinies, Hustle Humble provides innovative, entrepreneurial tools to inspire and build a prosperous business.
Hustle Humble offers carefully curated products to help build-up businesses to unimaginable heights. Every month read new inspiring stories, advice and tips from founders behind the products. Hustle Humble is an uplifting way to build confidence, attain knowledge and get leadership insight.
Hustle Humble features:
· Motivation delivered straight to one's front door.
· Every month receive fresh new products and tools.
· Get involved in an expanding network of flourishing entrepreneurs.
· Connect with new brands and target markets.
· Read motivating stories to keep you hustling and moving forward.
· Receive pro tips and insider secrets from seasoned entrepreneurs.
· Post a photo of your box on Instagram @Hustlehumblebox and give one of your tips for a chance to be featured!
A sneak peek of this month's featured entrepreneurs:
Crystal Simmons - A lover of color, a creative dreamer and a mama of three girls, Simmons has sold everything from gemstone jewelry, baby mobiles to vintage furniture. She finally found her niche with her current line of housewares and organizational products, The Tulle Box.
Brenda & Lisa -Friends turned business partners, Brenda & Lisa shared a love for design and creativity. Together they created Loll-Le Gaggin, a handcrafted jewelry line designed to be beautiful, but also able to connect with everyone, everywhere.
Taylor Elliott -Born and raised in Norman, Oklahoma, Taylor opened up her dream job, Taylor Elliott Designs. Her company specializes in motivating, colorful and FUN-to-use gift items and desk accessories for women who love charming, playful and adventurous style.
Make a Difference
Hustle Humble believes the first step in becoming an entrepreneur is through education. For every box purchased Hustle Humble will donate a box of school supplies to children in need of assistance for their education requirements.
ABOUT US
Created by two business savvy gals who have been through it all, founders Kailynn and Nikki created Hustle Humble as a way to empower other members of the "entrepreneur" community. With entrepreneurs asking them about how-to advice, they were inspired to help others thrive.
The two-fold name Hustle Humble has a significant meaning to this powerful duo. When they started their first company 13 years ago, they "hustled" around the clock to accomplish their goals. More than speed, it was about producing quality work. With the help of the Lord's grace and guidance, they were able realize their dreams. Above all, these self-made women keep their ethics while remaining humble through all of their blessings. As of 2016 their expanding enterprise includes Chic Blvd, ChicBuds and ChicExecs. Through their monthly subscription box, Hustle Humble, these women are committed to helping and inspiring other entrepreneurs.