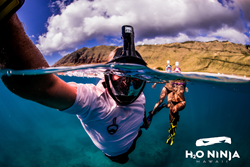 "We are thrilled to have signed this deal with H2O Ninja as we believe the product fits in perfectly with the 'niche' label Quantum prides itself on, says Quantum Networks President Jonathan Goldman.
New York, NY (PRWEB) September 07, 2016
The H2O Ninja is a revolutionary new snorkeling mask which allows users to breathe through both their nose and mouth, unlike most masks which only utilize the mouth. The Ninja Mask has been reported to increase underwater time by up to 50 percent by ensuring comfort via regular breathing techniques versus the typical, yet abnormal snorkeling method. A video featuring the mask was featured on Earthables Facebook page and amassed more than 30 million views within a few weeks time. The Dive Equipment & Marketing Association (D.EM.A.) reports, "There are about 11 million snorkelers in the US and about 20 million snorkelers worldwide."
According to Sean Brown, Co-Owner of H2O Ninja, "We are excited and are looking forward to working with Quantum Networks. We knew what was missing from snorkeling, but didn't quite know what it took to make our product the most presentable and available on Amazon. Quantum Networks allows us to focus on what we know best, while they strategically grow the value of our brand as a whole. They are very diligent in everything they do and operate as though they are part of our company." Facilitator of the deal, Alana Cohen, was ecstatic regarding the signing. "Just in time for the close of summer snorkeling season, this product can and will revolutionize the industry and change the face and facemask of snorkeling."
The product will be available via the Amazon.com product page as well as Quantum's lifestyle website, Blucoil.com.
About Quantum Networks, LLC:
Quantum Networks LLC, an Inc. 500 list member, is a New York City-based e-Commerce company. The company sells innovative products through the world's largest online marketplaces and its flagship website, blucoil.com. Navigating the nuances of online marketplaces is a complex process for brands. As experts in the field, Quantum customizes marketplace strategies with the brand's individual message in mind. Quantum effectively and efficiently executes the go-to-market strategy for each and every brand it partners with.
About H2O Ninja:
A revolutionary full face snorkeling mask designed to make snorkeling effortless and natural. The unique full face design of the H2O Ninja Mask will let you breathe normally under the water, just the same as you would on land. Inspired by the full-face mask/regulator systems used by deep-sea divers, the H2O Ninja Mask uses a snug, full-face seal to establish a clear airway between the entire mask and the surface, which is further protected by the integrated snorkel's one-way ball valve. The new H2O Ninja Mask has gleaned the best technologies from the last 50 years of mask evolution, to deliver the very best surface snorkeling experience on the planet!
Follow H2O Ninja on Social Media:
Facebook - Twitter - Instagram